CES 2018: Vewd Tunes in Smart TV OS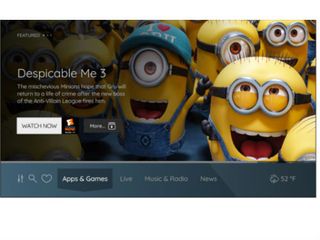 Thanks in part to Google's Android TV, Roku and platforms from Samsung and LG Electronics, the market for smart TV operating systems is already pretty crowded. Vewd apparently thinks there's room for at least one more.
Read More: Complete coverage of #CES2018
Vewd, formerly known as Opera TV, used this week's CES to introduce a smart TV OS of its own, and will look to carve out differentiation with a system that doesn't require individual downloads of apps by instead tapping into a platform that loads from the proverbial cloud. Vewd holds that this approach enables it to surface video faster while still providing a conduit to the wide, wide world of OTT services.
RELATED: Opera TV Rebrands as 'Vewd'
Among other claims, Vewd said its OS for smart TVs also provides a guide that unites VOD, live TV and thousands of apps, and will include support for voice-driven navigation. That will be matched up with a data-driven analytics platform.
Vewd did not announce any partners for the new OS at this week's show, but promised that it will announce some soon from "leading manufacturers," noting that TV makers/original equipment manufacturers don't tend to discuss those details until they have a device that's ready to ship.
However, Vewd also said that the new OS builds on its Core SDK (software development kit), which it claims has in install base of about 30% of the world's smart TVs. So, in that sense, perhaps it will have a rolling start.
The smarter way to stay on top of the multichannel video marketplace. Sign up below.
Thank you for signing up to Multichannel News. You will receive a verification email shortly.
There was a problem. Please refresh the page and try again.