Catching Up With CableLabs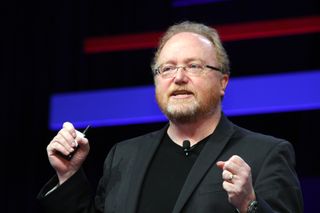 Led off by high-profile projects such as DOCSIS 3.1, CableLabs, the industry's interoperability specifications specialist and general research-and-development house, has its hands full keeping an eye on what's important now and what might be on the horizon — a horizon that includes fiber-to-the-home technologies and cable's expanding and evolving WiFi strategies.
Phil McKinney, the former Hewlett-Packard exec who took the helm of CableLabs in June 2012, recently caught up with Multichannel News to talk about his organization's priorities, initiatives and concerns. An edited transcript follows.
SCTE Daily: The cable industry has plenty on its plate these days, but what are your top priorities? these days?
Phil McKinney: The top three priorities [are] around the three projects or focus areas of our R&D area, which is wireline broadband services, which is really DOCSIS 3.1, making sure we continue to push that forward and get that ready with the vendor and member community and getting that deployed.
Second is wireless, and that includes WiFi and our work in LTE Unlicensed and the work we've been leading in the U.S. and now around the world on additional unlicensed spectrum policy.
The third is cybersecurity. It's growing as the priority for anybody in the broadband space, but one that CableLabs has been involved in, given our security posture and role that CableLabs today plays in running and managing the PKI (public key infrastructure) keys for the cable industry. We're expanding that and developing innovations and technologies around cybersecurity, identity protection for cable customers, given just the footprint cable provides for both consumers and corporations with broadband services and how do you protect those customers from the threats that are coming in through that broadband connection.
SCTE Daily: What's next for CableLabs on the PKI front? [Of recent note, CableLabs formed a for-profit venture called NetworkFX in 2012.]
PM: We manage north of 300 million PKI keys on behalf of the industry. We actually distribute and manage the root keys and design the keys — every set-top box, every modem … has the keys.
What can we do on top of having this secure posture already into the network [is] do things like better identity management and identity protection. We know, for example, who is sitting behind a DOCSIS modem, we know you're physically in your house so you can take a certain model of identity and do more things, say your financial institution, than maybe you would do sitting at a WiFi hotspot sitting at a Starbucks.
SCTE Daily: CableLabs published the initial DOCSIS 3.1 product specs about a year ago. What progress has the consortium made on the 3.1 specs this year?
PM: Right now, silicon vendors are building the chips; the first chips we're anticipating toward the end of this year. You'll see interops in the first half of 2015 and certification in that early part of mid-2015. Then, you'll start to see physical deployments by the end of 2015 on the current schedule, which is slightly ahead of the original schedule that we laid out two years ago when we kicked off 3.1 activities.
Every time I have a conversation with any of the CEOs, typically the first part of the conversation is not about the weather; it's about the status of DOCSIS 3.1.
SCTE Daily: How imperative is it for cable to get 1 Gigabit-per-second services rolled out amid the emerging threat of Google Fiber and projects like AT&T's GigaPower?
PM: The question we always get is, "What the heck do you do once you get 1-Gig into a house? What service requires it?"
Today, there's nothing in the marketplace that needs a 1-Gig sustained speed. However, one service today that consumers do value when you get to those kinds of speeds is really not so much the issue of speed overall as it latency, is what I call the "fast sync." You come into your house and if you could burst to 1-Gig to get your email synchronized, your TV shows onto your iPad because you're dashing out to a flight … it's that feeling of having instantaneous access to your information so you can be productive everywhere you go.
SCTE Daily: CableLabs has also been active with fiber-to-the-premises technology, including a way to bring DOCSIS-style provisioning to GPON and EPON. Why is FTTP important to the industry when DOCSIS 3.1 on the way?
PM: Today, if you're doing a greenfield deployment, what would you put in the ground? You'd put fiber.
Part of the challenge I've had inside the industry when I came into cable was that when you think of the word cable, everyone assumes it's coax and only coax. A better word for the industry would be the "broadband" industry. It doesn't matter if it's coax or cable or WiFi. However, it's about delivering those broadband services to the customer. The cable operators are really agnostic.
But if you're going to extend your network and open up a trench, you're going to put fiber in that trench today. Some operators are going with an EPON [Ethernet passive optical network] approach and others are going with a GPON [Gigabit passive optical network] approach. We're working on a project called "OnePON" that is really trying to rationalize IEEE and ITU [standards] and bring them together for a single PON approach versus the EPON and GPON camps. The jury is still out whether we're going to be able to bring the two camps together. But we think it's important enough to put a stake in the ground and at least try.
SCTE Daily: How is LTE Unlicensed factoring into your work around WiFi?
PM: With LTE Unlicensed, it's about expanding the use of LTE. You can take LTE Unlicensed and use the same [unlicensed] bands that WiFi uses. LTE doesn't have restrictions. However, there are some challenges. LTE today assumes that it has exclusive use to the broadband — that channel — because it operates in a licensed band today. It doesn't have to think about sharing.
As soon as you move it into unlicensed, it has to share. It has to know how to share. That becomes the challenge today. If you took LTE and run it in the unlicensed band today, it would basically dominate everything in the spectrum and knock WiFi out.
CableLabs is working with the LTE industry and the WiFi industry … on proposals and technical approaches on how to do better spectrum sharing. Spectrum is not an unlimited resource.
The smarter way to stay on top of the multichannel video marketplace. Sign up below.