CableLabs Weighs VR Opportunity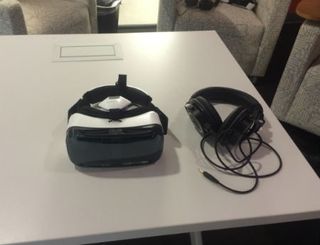 As cable operators mull their role in the future of virtual reality, CableLabs is already playing its part, testing the technology for future distribution and bandwidth considerations and seeing how consumers are reacting to the wonders of immersive video.
Before CableLabs trotted out a bunch of demos to show the progress being made with DOCSIS 3.1, it also offered a glimpse of VR with some video running on Samsung Galaxy Note 4 paired to a Samsung Gear VR headset (pictured).
The demo, my first with this platform, provided an interesting experience as a flyover of New York did provide some of the desired sensations, the video (running at about 30 Mbps) still had that "screen door effect." Very good, but not the experience that consumers will get with the new higher-end, self-contained platforms that are on the way.
Or maybe not. Steve Glennon, the principal architect for the advanced technology group, at CableLabs, noted that Samsung is working on a device that scrunches an insane-sounding 11K x 5K pixels into a 5.1-inch screen… by 2018.
In Glennon's view, the only reason to pack so much detail into such a small screen is likely to be VR.
And he doesn't believe VR will go mainstream until all the headsets are wireless.
As VR makes its way into the mainstream, CableLabs is also noodling other roles it could play, and one area of potential interest is helping to standardize interfaces for VR, Glennon said.
That's obviously something CableLabs knows something about. After all, the "I" in the wildly successful DOCSIS platform stands for "interface."
Glennon shared a few more thoughts about VR and cable's role in it recently in this blog post.
As he explains: "You can't talk about VR – you have to experience it." And "you don't really get it until you experience some good content in a good headset."
It's absolutely true. Like HDTV, seeing played a huge role in the believing.
I've toyed around with Google Cardboard, and it's a nice entrée into the world of VR, but a taste of a higher-end experience like what I had at this week's demo will have me coming back for more.
And it doesn't look like I'm alone. CableLabs' tabulated some results from its consumer demos and found that 57% said they "had to have it," while 88% could see themselves using a head-mounted display within three years.
"So this seems overwhelmingly positive. There is the novelty factor to take into account, but we were surprised by how few expressed any discomfort and how positively regular people described the experience," wrote Glennon, who knows a few things about adoption of new video technologies, having seen the flopping and floundering 3D TV has experienced through the years.
The smarter way to stay on top of the multichannel video marketplace. Sign up below.
Thank you for signing up to Multichannel News. You will receive a verification email shortly.
There was a problem. Please refresh the page and try again.