#CableInTheCommunity: Network Restores Town Traditions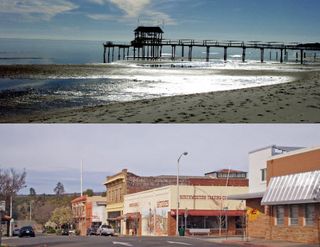 Cable network Destination America will host Fourth of July celebrations this weekend in the communities of Waveland, Miss., and Oroville, Calif., which were selected from a pool of 2,600 entrants in the network's third annual Red, White and You contest.
The network created the holiday-linked public service initiative in 2013 as its contribution to Discovery Impact, Discovery Communications's corporate social responsibility program, which challenged each of the programmer's networks to come up with their own community service efforts.
For both communities the weekend will mark the return of Independence Day fireworks following years of difficulties.
Waveland is a Gulf Coast beach town that just barely survived 1969's Hurricane Camille (which Southerners along the coast still speak about in hushed tones) only to become the ground zero of 2005's Hurricane Katrina.
Ten years later, Waveland, with a population of less than 6,500, is still recovering from the devastating storm, having just reopened its iconic pier on June 20. The Waveland Police Department said it was preparing for a crowd of 15,000 to 30,000 people for the $50,000 July 4th spectacular, according to local news reports.
"I couldn't think of a better way to celebrate the 10 year anniversary of rebuilding since Katrina than to have this celebration," said Mayor Mike Smith of Waveland. "Our people are very resilient, but this will help in the healing process."
Oroville, dubbed the City of Gold for its role during the California Gold Rush, today is one of the leading water sources for the entire state but is at only 44% capacity, according to a photo essay at the San Francisco Chronicle's website. With the still ongoing statewide drought and other local economic challenges, fireworks traditionally displayed from atop the Oroville Dam have been canceled the last several summers.
Destination America's Red, White and You initiative will restore that grand tradition in the seat of Butte County, where personal possession and use of fireworks are banned outside the city limits, in unincorporated areas of the county, according to the local Gridley Herald.
"[T]he California drought has been difficult for everyone, including us," said Oroville Mayor Linda Dahlmeier. "This 4th of July celebration will encourage our community and remind us of our rich history."
The two communities' "stories of recovery and resilience" piqued the network's interest, Marc Etkind, Destination America GM, said, adding, "[T]heir incredible display of hometown pride and American spirit are what makes them especially deserving."
Communities that have won the Destination America contest in the past include 2014 grand prize winners Prescott, Ariz., a town still recovering from the wildfires that claimed the lives of 19 firefighters, and Hamtramck, Mich., a city making a comeback from economic hard times. The inaugural 2013 winners were Union Beach, N.J., a Jersey Shore town hit hard by Hurricane Sandy, and Fayetteville, N.C., a community that enthusiastically supports its military partners at Fort Bragg.
"Independence Day is a time to bring communities together," Etkind said, "and Destination America is privileged to support these towns as they honor their pasts while working hard to ensure a bright future."
Destination America launched this year's contest in March. The winning submissions came from residents of each community; they are reprinted below.
Waveland, Miss. – Nominated by Donna Estopinal
It's been almost 10 years since Hurricane Katrina attacked Waveland, MS leaving our beautiful city in ruins. She did not attack a few, the entire city was affected. Not only did she put people out of work, she also put them out of their homes. Many people were forced to move away leaving their dreams behind to start over somewhere else. Those who stayed were determined to rebuild not just their homes but our beautiful city as well. Waveland is coming back stronger and better than before. Our pier will be open soon, our veterans' memorial is more beautiful than before and on and on. We are recovering and moving forward slow but sure. Everyone in the City of Waveland works hard everyday. What better place to show off our determination in rebuilding than Waveland, Ms by having a "Red, White and You" celebration, fireworks and all!
Oroville, Calif. – Nominated by Deliah Robison
Oroville, CA deserves a wonderful 4th of July celebration. Oroville, named the City of Gold, is a historical point for the gold rush. Oroville is home to one of the largest dams. Many retired military Veterans reside here. It means a lot to those families and their community to celebrate and remember what their service was for. In the past, our town hosted a large fireworks show from the dam, but the costs have become too high in many previous years. Last year, they ran many fundraisers to host the fireworks show. It would mean a lot to our town to be able to celebrate without cutting back or having to run numerous fundraisers. We have many access points and can even host neighboring towns by opening our state parks and marinas for more places to watch the fireworks. Please consider our town.
The smarter way to stay on top of the multichannel video marketplace. Sign up below.