Bus Photobomb Inspires Sports Meme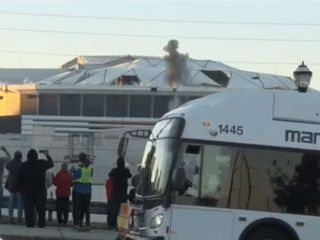 If you've been anywhere near an internet connection in the last day, surely you've seen The Weather Channel's attempt to film the implosion of the Georgia Dome being thwarted by a MARTA bus that pulled in front of the camera at the most inopportune time.
The Weather Channel reportedly had been camped out for 40 minutes in a perfect spot to live-stream the coming destruction, when this happened:
That bizarre moment inspired a flow of funny sports-theme memes, including this one from Sports Illustrated:
Today's Georgia Dome implosion isn't the first time the MARTA bus had terrible timing pic.twitter.com/pNSyY5fPQf
— Sports Illustrated (@SInow) November 21, 2017
And the opportunity to exact some good-natured ribbing didn't get by some of Atlanta's pro sports teams:
From The Atlanta Falcons:
REALLY, MARTA?! pic.twitter.com/t2D6dXX9lc
— Atlanta Falcons (@AtlantaFalcons) November 21, 2017
The Atlanta Hawks:
Final from San Antonio: pic.twitter.com/WaGJIU1Ins
— Atlanta Hawks (@ATLHawks) November 21, 2017
Even James Crugnale, associate science editor at The Weather Channel, was able to joke about it, eventually:
Please give full credit for filming the epic bus photobomb to my colleague Jason Rudge (@Jason_R_Rudge)! I just GIFed it for posterity and didn't know this was going to become such a monster meme!
— James Crugnale (@jamescrugnale) November 21, 2017
The San Jose Sharks also got into the action:


Got a great view of Donskoi's goal. #SJSharkspic.twitter.com/tnCuqDLdH4
— San Jose Sharks (@SanJoseSharks) November 21, 2017
The smarter way to stay on top of the multichannel video marketplace. Sign up below.
Thank you for signing up to Multichannel News. You will receive a verification email shortly.
There was a problem. Please refresh the page and try again.