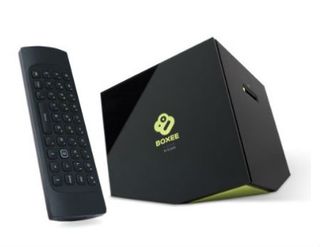 Boxee, once a burr in cable's saddle and a beacon of light to cord-cutters, has apparently reached its end game (yes, it is mixed-metaphor Thursday, thanks for asking) amid a report inVariety this week that Samsung has shut down an initiative that involved many of Boxee's people and its technology.
Samsung acquired Boxee in 2013, sparking speculation that Samsung might use Boxee's tech to build new OTT devices, develop advanced user interfaces and maybe even a cloud DVR product. Per Variety, work spawned from the Boxee acquisition focused on a secretive "Perfect Experience" project that centered on a custom-built media tablet designed to replace the traditional TV remote and provide access to a unified listing of TV and OTT content.
That's, of course, very far away from what Boxee was focused on when Samsung acquired it. Back then, it was pitching an OTT-TV blend delivered via a device called the Boxee Cloud DVR, the successor to the original Boxee Box (pictured above, the cool, submerged cube-looking thing).
Though Boxee, led by its fearless, hoodie-wearing CEO, Avner Ronen (he was serving as VP of product Samsung, but has left the company, Variety said), generally styled itself as a product for cord-cutters, it was a 'tweener in the sense that it also fought very hard to ensure that its devices could also obtain basic cable TV programming (even after that programming was encrypted, and no longer delivered "in the clear"), and do so without having to go through the headache and expense of integrating a CableCARD slot.
And, for a small startup, it sure did shake things up in the pay TV industry, managing to stir up enough dust to get high-and-mighty Comcast to play ball -- fun times that, upon reflection, represented an important fuse-point to the explosion of the OTT video market, shifts to less-expensive, skinny bundles, and other threats to the traditional pay TV industry that we're witnessing now.
So, as we bid adieu to Boxee, here's a look back at some of its bigger before-Samsung moments:
-July 2012: Comcast and Boxee strike a deal that enabled Boxee devices to access the MSO's encrypted programming in one of two ways – via a short-term fix that paired the Boxee box to an Ethernet-connected DTA, and a longer-term licensed-based "integrated-DTA" approach that would eliminate the need to tether Boxee to another device.
-April 2013: Comcast begins to offer a new type of DTA that can feed an encrypted form of its basic digital video tier to Boxee's Cloud DVR product in select markets. The DTA in question housed an internal IP mini server that turned encrypted QAM video channels into protected IP streams that can be shared with the Boxee device over connections outfitted with Digital Living Network Alliance (DLNA) technology with DTCP-IP content protection. Look, ma! No CableCARD!
-Boxee and the E-DTA became a central figure during U.S. cable's pursuit of FCC rules that now allow operators to encrypt their basic service tiers in all-digital systems. Cable argued that basic tier encryption would help operators clamp down on service theft and reduce truck rolls. The FCC basic TV encryption ban was lifted on Dec. 10, 2012.
-October 2012: Boxee gets a foothold in the big box retail market when Walmart starts to sell what was then called the Boxee TV (later rebranded as the Boxee Cloud DVR). However, early reviews for Boxee TV posted at Walmart.com weren't so hot.
-February 2012: The NCTA and Boxee had some fun sparring over the basic cable encryption debate. Boxee claimed then that as many as 40% of its customers who used the live TV option in its devices would end up paying more for cable set-tops if the encryption ban was lifted. NCTA countered that Boxee was "simply wrong" in asserting that changes to the rules would harm consumer choice and limit competition.
-November 2011: The original Boxee Box added support for the SlingPlayer, a move that turned the device into a second set-top box for consumers who used Slingbox place-shifting products. At the time, Boxee also released a USB-connected dongle that let users watch over-the-air-TV.
I'm sure I'm missing some other significant Boxee moments, so please weigh in with yours below.
The smarter way to stay on top of the multichannel video marketplace. Sign up below.