Blockchain Technology Moving Into Cable, Advertising Sectors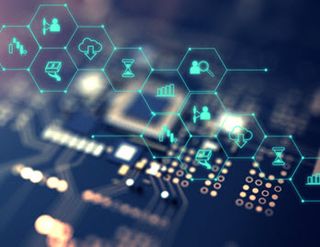 There's much more than advanced advertising embedded in the march of blockchain technology into the cable and media business.

Media companies such as Comcast-NBCU and Tegna and vendors including IBM, Oracle, Microsoft and more are accelerating their blockchain experiments, focusing on the efficiency, security and trustworthiness that Distributed Ledger Technology (DLT) can provide in data management and cryptopayments. In digital journalism, blockchain can be used for content validation. And in construction and operations management, the technology is being developed to authenticate deliverables and verify reliability.

NeverStop Marketing foresees blockchain being used throughout the emerging digital landscape, in applications that include "Content and Experience," "Management," "Data," "Advertising and Promotion," "Commerce and Sales," and "Social and Relationship." Its marketing landscape chart identifies an array of emerging companies operating in each sector.

Comcast's Advanced Advertising Group plans to launch a Blockchain Insights Platform in 2018. That promise has triggered attention to the blockchain's capabilities in advertising, including the opportunities it opens in over-the-top services. Comcast did not respond to requests for an update on the project, which seeks to increase the efficiency of premium video advertising and enable secure exchanges of non-personal audience data for addressable ads.

UPDATE: When Comcast talked up the Blockchain Insights Platform at Cannes Lion it cited the potential for advertisers and programmers to share data sets safely to craft media plans targeting audience segments across pay-TV platforms, and David Clark, executive VP at Comcast and general manager of the advanced advertising group, cited the blockchain initiative at a media conference on Tuesday in New York. "The TV industry as a whole, we believe, would benefit from collaborating on a common repository of data," he said.

Speaking during a panel at the Paley International Council Summit, Clark said Comcast believes the blockchain initiative "gives all participants a way to access the full breadth of data in a safe, encrypted way, which is really exciting."

Premion, the OTT advertising services division of Tegna (formerly Gannett Broadcasting), has already plunged into the OTT ad market, using blockchain in its tool portfolio for local and regional ad campaigns. Premion uses Tegna's local sales force (currently in about 40 markets where the company owns TV stations) to insert local ads on OTT channels, such as TBS, Discovery GO, Crackle and dozens of others.

Premion president Jim Wilson told Multichannel News that Premion, which debuted a year ago, is now "running thousands of regional and local campaigns each month in more than 195 DMAs and down to the zip code level."

"We are bullish on blockchain as a solution to address the opaque supply chain, mounting ad tech fees and many hours spent reconciling post-campaign reporting for payments," Wilson said. "With many disparate parties all writing to a shared ledger, trust and verification become more of the consequence of the technology when there is a network effect."

Wilson said Premion uses blockchain "across the advertising ecosystem -- agencies, marketers and publishers -- to track ad impressions without relying on one single entity's data."

"We're scoping out a path for blockchain technology that can reduce fraud and costs in the advertising supply chain," Wilson added.

Despite immense attention -- and questions -- about blockchain, the process may be "subtle," Steve Goeringer, principal security architect at CableLabs, said. Goeringer, who wrote a seminal paper last year about on blockchain in the cable industry told Multichannel News that CableLabs has focused on interactive and social experiences for systems that enable "more secure distribution of content."

He cited "various medical use cases [and] new value opportunities for cable operators to extend to both business and residential subscribers." In the short term, "Most uses will be based in private, purpose-specific chains rather than those publicly available," Goeringer said. "It is likely that most blockchain use cases will not require direct subscriber participation in or even awareness of blockchain."

Developing More Uses
Cryptocurrencies have been a primary driver of the blockchain process. Dish Network began accepting Bitcoin for online payments for subscriptions and other services in August 2014. A Dish executive told MCN, "We have a low, but steady group of customers paying their monthly bill with Bitcoin," and it has "been frictionless for us and a good customer experience."

There are also significant opportunities to use blockchain in journalism, as described at the Online News Association conference early this month. Amy Webb, founder/CEO of the Future Today Institute, singled out blockchain in her "2018 Tech Trends for Journalism Report," noting that blockchain could "make it easier for newsrooms to solicit and receive sensitive information from whistleblowers ... [and] guarantee the authenticity of sources, images and videos."

"In the future, there could be a public ledger for news, a network system that would exchange authentic news and parse out fake news," Webb said.

"Blockchain technology has the potential to transform media as the internet did two decades ago," said Barbara Bellafiore, principal consultant at Bell Communications, a Connecticut firm that advises media, ecommerce and technology clients about use of this evolving technology. She cited increased accuracy and immediacy in counting viewers and users, added efficiency to payments and "better tracking of the conversion of advertising into sales" as major advantages.

In the media sector, blockchain's decentralized technology can help resolve the contractual challenges of data sharing, including digital rights management, conditional access and privacy. Its features include identification, proof (including timestamps) of activities, traceability and security. A recent Harvard Business Review analysis cited blockchain's ability to keep data safe for consumers and enterprises as a core appeal.

Much of the initial focus has been on supply chain management and ways to streamline the complex network that involves producers, brokers, distributors, processors and retailers. A recent Deloitte study found that nearly 50% of the media companies surveyed said they were now using or plan to implement blockchain technology -- far ahead of financial services companies, generally regarded as the cryptocurrency market leaders.

Many advertising industry executives are especially enthusiastic about the technology.

Tim Hanlon, founder/CEO of The Vertere Group in Chicago, said he believes that blockchain "can resolve a lot of issues that bedevil the media and ad industries, including fraud."

"This whole notion of programmatic buying ... has not necessarily been smooth," Hanlon said. "Blockchain portends improvements in the automation," especially its ability to "squeeze out fraud."

Stacy Huggins, cofounder and chief marketing officer of MadHive, expanded on this value.

"Blockchain technology will play a pivotal role in solving many of the issues the current supply chain grapples with," Huggins told MCN. "For the sell side, they could maintain ownership and control of valuable data assets by employing cryptographic keys and using the blockchain as a chain of custody on data." Suppliers would also be able to "tackle cross-network frequency capping, cross-device attribution reporting and see much faster reconciliation and payments from advertisers.

"On the demand side, stakeholders ... could finally achieve the transparency and fraud prevention they have always asked for," she added. "The terms and conditions set forth in their campaigns could be governed in code via smart contracts; they could query a distributed ledger for quick impression level data to make adjustments mid-campaign. It would also give the transparency required to build out more robust attribution models which will improve return on investment."

MadHive, established early last year, has developed a blockchain ecosystem for advertising that it calls "a trusted pipeline for data exchange and collaboration across the ad tech value chain." The company provides Tegna's data management platform, which Huggins characterizes as "creating a decentralized network among OTT partners to track audience levels on a secure platform."

Tegna and MadHive are also founding member of the new AdLedger Blockchain Consortium. Premion's Wilson said he believes the AdLedger Consortium will help the various sectors achieve "common goals."

MadHive's Huggins is also executive director of the new consortium, which was formed early this summer. AdLedger's members include advertising and publishing/programming executives seeking to bring transparency and data security to the ad tech supply chain "by harnessing a blockchain backed peer-to-peer network."

To Danny Bowman, a long-time wireless industry executive, blockchain systems will thrive in the emerging supply chain involving "trusted content" and OTT services. Bowman, who will lead a roundtable on blockchain in the media business at the National Association of Broadcasters Futures Conference in East Palo Alto, Calif., Nov. 12-14, foresees "the real opportunities in smart contracts" and in transactions "without so many people involved."

Image by iStock /Getty Images Plus; Kent Gibbons added to this report.
The smarter way to stay on top of the multichannel video marketplace. Sign up below.
Contributor Gary Arlen is known for his insights into the convergence of media, telecom, content and technology. Gary was founder/editor/publisher of Interactivity Report, TeleServices Report and other influential newsletters; he was the longtime "curmudgeon" columnist for Multichannel News as well as a regular contributor to AdMap, Washington Technology and Telecommunications Reports. He writes regularly about trends and media/marketing for the Consumer Technology Association's i3 magazine plus several blogs. Gary has taught media-focused courses on the adjunct faculties at George Mason University and American University and has guest-lectured at MIT, Harvard, UCLA, University of Southern California and Northwestern University and at countless media, marketing and technology industry events. As President of Arlen Communications LLC, he has provided analyses about the development of applications and services for entertainment, marketing and e-commerce.