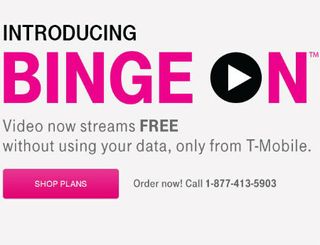 T-Mobile CEO John Legere has apparently stirred up a hornet's nest.
Binge On, the company's new zero-rated streaming option, was already a topic of debate among network neutrality advocates, but now the mobile provider is receiving a bigger dose of vitriol after Legere went after the Electronic Frontier Foundation with an expletive-laced answer via Periscope when the Internet-savvy group asked him if Binge On alters streams or just limits its bandwidth.
Legere first responded by explaining a bit about the proprietary tech behind Binge On, then in "part B" of his answer he added a disrespectful: "Who the f*** are you, anyway, EFF? Why are you stirring up so much trouble, and who pays you?"
That got a nasty response from the Twitterverse (with EFF urging people to "enlighten" the exec using the #WeAreEFF hashtag. Legere did tweet this: "Let me be clear- I know who the @EFF is. I'm sure they do a lot of great things for a lot of consumers, but innovation can be controversial!"
He then added: "This is not a personal campaign against @EFF – It's simply a topic in a broader conversation about customer choice, which I'm fighting for."
But apparently some of the damage was done.
As Ars Technica reported, Sidefuse, the company behind 4Stream.TV, said it is backing out of the Binge On program in the wake of Legere's comments. Binge On, an optional offering, zero-rates certain streaming services (meaning they don't count against a user's monthly data cap) and utilizes a proprietary platform that offers quality of 480p or better. When the option is turned on, it also applies that technology to other video streams delivered outside the Binge On group, but that traffic is not zero-rated.
Sidefuse tweeted the contents of its letter sent to T-Mobile, which starts out: "In light of recent events and of comments made by your CEO, John Legere, we have decided to halt our participation in Binge On and disable our traffic shaping rules for the time being…As network neutrality supports and EFF Members, we encourage you to be more honest and transparent about the issue and develop a program that we can be proud to participate in."
As Ars Technica points out, 4Stream.TV hasn't been among the others that are participating in the Binge On program, but that it was working with the mobile operator on how to meet its technical requirements on behalf of its clients. T-Mobile announced it had added several more partners this week, including A&E, Lifetime, History, PlayStation Vue, Tennis Channel Anywhere, FuboTV, and Curiosity Stream, among others.
Legere also explained why Binge On is opt-out, rather than opt-in: "We wanted all customers to be able to have this benefit immediately without making them jump through hoops," adding that T-Mobile made it easy for them to opt-out.
Legere's comments to the EFF's question have created new wave of criticism about Binge On, though time will tell if the program will be formally vetted to see if it violates the FCC's net neutrality rules. T-Mobile has been resolute in saying that its new, optional program is well within the bounds.
FCC Chairman Tom Wheeler has already praised Binge On as "highly innovative and highly competitive," but added that the Commission will monitor the program under the Open Internet rules's "general conduct" standard, which enables the FCC to review things on a case-by-case basis.
Thank you for signing up to Multichannel News. You will receive a verification email shortly.
There was a problem. Please refresh the page and try again.