AT&T's DirecTV Developing Android TV Box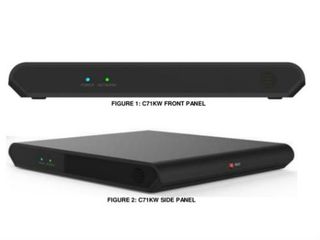 Add AT&T/DirecTV to the list of MVPDs that are lovin' it some Android TV.
DirecTV is developing an Android TV-powered box that will rely on OTT distribution and support voice search/navigation and the 4K video format, according to FCC documents that were first spotted by Variety.
The device, referred to as model number C71KW-400 and as the "AT&T/DIRECTV Wireless 4K OTT Client" in the user manual filed with the FCC, ties in a 10/100 Ethernet connector, digital audio, HDMI and USB 2.0 ports, and 802.11ac WiFi. The associated remote features a touch pad and voice recognition capabilities, when it is paired with the Android TV device.
The user's guide also notes that the voice-controlled remote will work with a "future" model that is called the HS27.
Users will be able to sign in with their Google accounts, and screen shots show the device supporting an array of apps from the Google Play store.
Notably, the new OTT client device can't be used with existing DirecTV Genie servers (such as the HR34-54 and HS17).
AT&T hasn't responded to questions about the new Android TV device, so how the company will actually use it is open to speculation.
Because this is an OTT device, my guess is that it will be a device DirecTV will sell or lease to customers of DirecTV Now, and support a new software platform, referred to on AT&T's Q3 call yesterday, that that will go wide next year that will deliver advanced features such as a cloud DVR, PPV events and movies, and allow users to tack on more streams to their accounts.
RELATED: AT&T CFO Predicts Video Rebound in Q4
If this end up being a device for DirecTV Now, it follows that the company would optimize it to default to AT&T's own OTT TV service when it's turned on, and still give users the option to supplement it with apps such as Netflix, Hulu, and YouTube, etc.
Variety's Janko Roettgers likewise wonders if DirecTV will make the box available to new or existing customers of AT&T's U-verse IPTV service or DirecTV's traditional satellite TV service, perhaps in an effort to more rapidly migrate video subs to its new, more agile digital platform.


To Roettgers' point about how the new Android TV device might factor into the company's grander pay TV plans, Randall Stephenson, AT&T's CEO, talked up the company's software-centric approach to video at the Goldman Sachs Communacopia Conference in September.
RELATED: AT&T Looking to Improve on Comcast's Model
"It's a software-based solution for cable TV for want of a better descriptive terms," he said then. "That is going to be the platform for how we deliver all video in the future, software-centric. We'll be ambivalent as to whose broadband the television service traverses and so a software-based platform will not require a satellite dish on the roof and a very thin client in the home rather than a big set-top box."
Regardless of the execution, it does indicate that AT&T/DirecTV has joined a growing number of providers and vendors to jump into the Android TV pond. Some recent examples:
-Evolution Digital, a supplier focused on cable's tier 2/3 operator market, is working on an Android TV-powered box for its new app-based OTT TV offering that will carry the MSO partner's brand and be leased by the operator. It will also be made to auto-connect/default to the operator's app when the device is turned on.
-Telus of Canada is selling a 4K-capable Android TV-based "media box" for C$100 that works with its new Pik TV skinny-bundle streaming TV service.

-Dish's AirTV Player, which integrates Sling TV and over-the-air TV, is also powered by Android TV.

-Dish's "Evolve" 4K-capable set-back box, tailored for hotels and other partners in the hospitality market, also runs on Android TV.
And if you wondered if some in the cable industry are sensitive to the momentum that Android TV is starting to build in the cable pay TV sector, one would need only look to some of the curious behavior that took place at last week's SCTE/ISBE Cable-Tec Expo in Denver.
Execs from Amino Communications, Google and Verimatrix were originally slated to appear on a panel about Android TV at the show's Innovation Theater, but were instead required to move the discussion elsewhere.
SCTE/ISBE is not responding to requests for comment about what transpired there, but nScreenMedia's Colin Dixon, who moderated the panel, reported that show organizers "decided it was 'inappropriate' to include such a detailed discussion of Android TV. Amino, the sponsor of the panel, hurriedly relocated the discussion to its booth on the show floor."
I was poking around the show floor when this was all going down, and can say that several people were mystified about the decision, to say the least.
Though the message of the panel was still delivered at the show, changing the venue to the Amino booth from the Innovation Theater area didn't seem a necessary one to me. In fact, it came off looking like a bad move all around by an industry that insists it's ready to embrace openness and change.
Plus, the decision ended up having the opposite effect of what was intended, giving the panel even more attention (and the unwanted type, at that!) than it likely would've received if the event took place at its original location.
The smarter way to stay on top of the multichannel video marketplace. Sign up below.