Ataribox to Deliver Games, Streaming Apps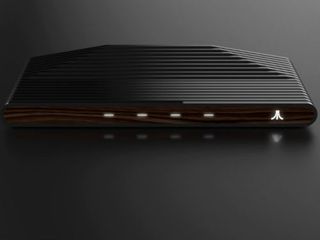 Atari is getting ready to go back to the future.
The company has revealed a few more details about the Ataribox, a device that's being billed as a platform that will bring a "full PC experience to the TV."
That means in addition to offering a library of games of yore from the old Atari 2600 (they haven't announced that list, but no Atari gaming library is complete withoutYars' Revenge, in my opinion) and fitting into the iconic form-factor (down to its faux wood siding), the Ataribox will also offer a mix of streaming apps, social networking connectivity, and web browsing
Atari said the device will be powered by an AMD processor with Radeon Graphics, and run a Linux-based operating system and a TV interface "customized for the TV."
Atari said the new device will launch with a "large back-catalog of Atari classic games" and some current titles from studio partners.
"Given the open nature of the OS, players will also be able to access and play compatible games from other content platforms," the company added.

Initially available via the Indiegogo crowdfunding platform this fall, Atari is targeting a global launch of spring 2018 for the Ataribox, and a price of somewhere between $249 and $299, depending on the memory configuration.
The big question: Beyond the Atari nostalgia factor, who will want it, given the lofty price point and up against a backdrop of other streaming platforms that also offer games, like the Apple TV the Nvidia Shield, to name but two?
Apparently there is a market for it, as Atari said it has received more than 90,000 registrations since announcing Ataribox three months ago.
And I totally get the nostalgia factor. I had an Atari 2600 when I was a kid, and the kid in me went to eBay a few years back to replace the console and a large library of game cartridges. And I also have this thing, but haven't removed it from the box.
And I also have an old Intellivision collecting dust somewhere. Come to think of it, I used to covet a friend's ColecoVision. I now have the urge to play Zaxxon.
And, boy, Chess King sure had some sweet duds back in the day.
Okay, I admit it… I need help. I'm drowning in a wave of nostalgia here.
The smarter way to stay on top of the multichannel video marketplace. Sign up below.