Arris Spruces Up Its Set-Top Lineup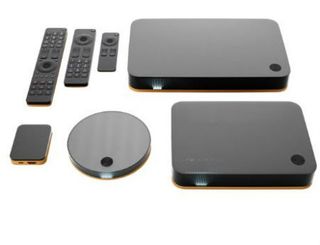 The trend may be toward the so-called "virtualization" of the set-top box as more of those functions get packed into the cloud, but that doesn't mean traditional boxes will be going the way of the dodo anytime soon.
On that point, Arris is using the IBC show in Amsterdam to unveil a new, sleeker design for IPTV set-tops and video clients that are equipped with HEVC decoding and 802.11ac WiFi, with some models capable of supporting 4K/Ultra HD video.
The VIP4000 and VIP5000 series products being previewed at IBC are based on Arris's KreaTV IPTV platform. But they also represent the first in a family of new designs that will support both telcos and cable operators and a "variety of software applications," an Arris spokeswoman said.
Those products, the first to feature Arris' new high-gloss, fancy set-top design, will be offered in several colors -- snow & copper; ice blue; "Arris orange" (they have staked their claim on this particular shade, apparently); tinted grey; premium umbra; and midnight purple. The front of model will also feature "fluted LED lighting" that will allow color-customized branding. Arris expects to launch them globally starting next year.
Here's the initial model lineup for each series:
VIP4000 Series (HEVC compatibility for HD)
-VIP4000: A compact HEVC 1080p60 HD IP set-top with an 80x80x13mm form factor equipped with 802.11ac 2x2 dual-band Wi-Fi antennas.
-VIP4300 – Featuring a circular design and USB connectivity for DVR and time-shifting, this one decodes HEVC HD 1080p60 and features 802.11ac.
-VIP4600 – A "fully featured" HEVC 1080p60 HD IP set-top, housing up to 1 terabyte of storage for DVR applications, plus 802.11ac.
VIP5000 Series (Ultra HDTV-capable)
-VIP5200 – An HEVC Ultra-HD IP set-top, supporting up to 4Kx2Kp30 with up to 1TB of storage and 802.11ac.
VIP5600 – A fully featured HEVC Ultra-HD IP set-top for UHD p60 with 10-bit color, plus 1TB of storage and 802.11ac.
Arris, which saw set-top and gateway shipments rise 8% in the second quarter, also extended the design theme to a new family of remote controls – a version with a full set of functions and short cut keys, a mid-level model with number keys and the "most important function keys" around the main navigation key, and a compact model with a small set of user keys.
So, the set-top box appears to be alive and well -- or at least is putting on a fresh face -- despite constant predictions of its demise.
The smarter way to stay on top of the multichannel video marketplace. Sign up below.
Thank you for signing up to Multichannel News. You will receive a verification email shortly.
There was a problem. Please refresh the page and try again.