Arris Not Boxed Out Of 'Worldbox' Opportunity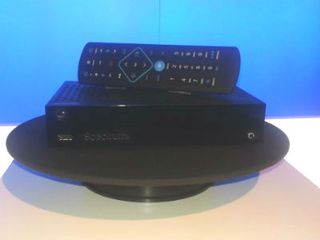 While Cisco Systems was identified at last week's CES gadgetfest as a "key" supplier of Charter Communications' new "Worldbox" through 2015, the market "overreacted" to the news, according to Bob Stanzione, Arris's chairman and CEO.
"The conclusion was jumped to that Cisco was going to take a big share of this Worldbox business," Stanzione said Tuesday during an investor conference in New York put on by Needham & Company. Such an interpretation is "absolutely incorrect," he said. 
To be fair, Charter CEO Tom Rutledge stressed at last week's Cisco presser in Las Vegas that the beauty of the Worldbox approach, which will use an "open" downloadable security platform from Cisco, is that it will allow the MSO to buy boxes from multiple suppliers that can be used in all systems that have implemented the new security system. He also brought up Arris by name as one of its STB suppliers, and mentioned that the new platform will also give Charter an opportunity to support devices sold at retail.
But concerns about Arris's role with Worldbox came up during Stanzione's talk, so he wanted to clear up that he expects Arris to have more than a fighting chance to be in the mix. Worldbox, he said, "levels that playing field" for set-tops. "Quite honestly, I don't see this as changing the competitive dynamic in terms of our ability to sell CPE to Charter," Stanzione said, noting that the company will have "equal opportunity to bid on the Worldbox, as any other competitor."
And he said the technical specs around Worldbox aren't "completely specified" yet, so there.
But it's also understandable that last week's announcement got the attention of Arris investors.
After all, it's got some significant turf to protect. Arris, which became a fixture in the STB market after buying Motorola Home in April 2013 for $2.35 billion, held a leading 32% of the cable set-top market from a revenue standpoint in the third quarter of 2014, according to Infonetics Research.
Stanzione also addressed the role of ActiveVideo Networks, which will allow Charter to bring its new UI to all boxes – the new IP-capable Worldbox and millions of already-deployed set-tops that don't speak IP.
Stanzione acknowledged that the approach will decrease the number of boxes Charter will need to buy, "but it doesn't eliminate the need for new set-tops," as older ones won't last forever and will still need to be replaced eventually.  Comcast, Arris's biggest customer, has been conducting a small test with ActiveVideo in Chattanooga, Tenn., (for a VOD interface) but has not announced any plans to expand on it.
But Worldbox wasn't the only topic. With earnings on the horizon, Arris is in a quiet period, but Stanzione reiterated that Arris is pushing ahead while four of its top five customers (AT&T, Comcast, Time Warner Cable, and Charter Communications) are all involved in mergers and acquisitions that will further consolidate the industry.
"I can only say business is good," he said, but was hopeful that there will be an acceleration in spending in areas where Arris is involved when those deals get wrapped up.
He's also bullish on the prospects of DOCSIS 3.1, noting that it will spark a "big replacement cycle" for CPE, as it did during cable's move from DOCSIS 2.0 to DOCSIS 3.0, and will cause MSOs to update their network gear.
Stanzione also weighed in on the specter of broadband being reclassified under Title II, but said it was tough to predict its impact until it's known how heavy or light a hand will be applied. 
In the meantime, it does introduce a "subtle effect," burdening Arris's customers to lawyer up and spend resources negotiating with regulators. Despite the rhetoric around Title II, Stanzione was confident that cable, telcos and satellite operators will still need to invest in their networks. 
Weekly digest of streaming and OTT industry news
Thank you for signing up to Multichannel News. You will receive a verification email shortly.
There was a problem. Please refresh the page and try again.