Another 'Promising' Week for Virtual Reality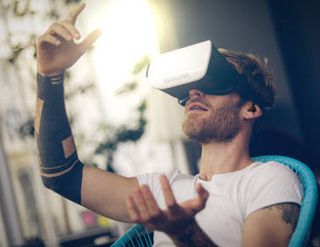 Despite a week of upbeat virtual reality developments, promises and encouragement -- the first Disney-backed Marvel VR game, six Emmy nominations for VR "experiences," an endorsement from a top streaming media packager plus a big (albeit temporary) discount from Oculus -- the outlook for the immersive technology continues to baffle media analysts.

The recent string of frothy announcements comes just a few weeks after Ericsson released a generally effusive outlook about VR, especially its value in video programming.

So while technology and programming suppliers continue to proclaim VR's looming role in entertainment (as well as in industrial, medical and other professional applications), media operators are still going slow in planning for the bandwidth and transmission requirements that VR will require. For now, much of the discussion still revolves around the near-VR (but usually not immersive) presentations of 360⁰ cameras, increasingly showing up as thumbnail videos in social media and other online feeds.

Nonetheless, the mid-summer bump of simultaneous VR developments served as a reminder that this technology could still become a $100 billion global industry by 2020 (as Nokia forecasts) and reach 49.2 million American by 2019, according to a report by eMarketer.

At Disney's D23 Expo in Anaheim, Calif., last weekend, the studio plunged back into the games category (from which it had withdrawn last year) via its subsidiary Marvel. It unveiled "Marvel Powers United VR," which will debut next year. Gamers can play at varying skill levels using Marvel characters such as Rocket Raccoon, Deadpool, Captain Marvel and The Hulk. Disney has partnered with Facebook-owned Oculus.

Related > CTA Projects Record Revenue for VR

A day before D23 began, when the National Academy of Television Arts & Sciences announced nominees for the 69th Emmy Awards, VR was in the running with six projects nominated in the "Original Interactive Program" and "Creative Achievement in Interactive Media Within a Scripted Program" categories (the academy hasn't created a VR category).

In the first category, all three nominations came from Oculus, some with a partner. One of those nominees is The People's House, featuring a White House tour with Barack and Michelle Obama. The second category included The Mr. Robot Virtual Reality Experience from USA Universal Cable Productions, Stranger Things VR Experience from Netflix and CBS Digital, and The Simpsons – Planet of the Couches from Gracie Films, 20th Century Fox Television and Google Spotlight Stories.

More Content, Lower Prices
Separately, Oculus announced that it will put $50 million of the $250 million already committed to VR content into "non-gaming, experiential VR content," according to published reports.

Meanwhile Oculus just slashed its equipment pricing. It has temporarily bundled its Rift headset and Touch controller into a $399 package, about $200 lower than the $598 price announced in March, which itself marked a drop from the $799 Oculus kit price early this year. The company said the summer-long promotional pricing seeks to attract potential customers who "may have been sitting on the sideline because of price," as well as viewers who have been waiting for more apps and games to become available.

Related > VR Equipment Market Mixed: Study

And at a July 18 webinar on "How to Produce, Deliver, Monetize & Experience VR Content," NeuLion and Nokia executives urged media companies to plunge into VR opportunities.

VR has moved "beyond simple streaming," said NeuLion executive VP Chris Wagner, because "there's so much more to do to interact with the viewer" to enhance the video-viewing experience.

"Compelling content is [vital] to make sure that you have that most immersive experience," added Malachi Bierstein, head of VR sales at Nokia.

"Without the content, not really much else matters," Bierstein said in published reports from the webinar. "So, really that compelling content is going to be the ultimate driver of VR adoption."

Their pleas for high-quality video content backed up findings from an extensive Ericsson "Merged Reality" study published a few weeks earlier.

That study found that 54% of respondents believe VR devices will become the new screens for video. About the same number (53%) expect video to be one of the most popular uses for VR.

Notably, current "early adopters" were significantly more enthusiastic than survey respondents who "are planning to use a headset," but the overall optimism is promising for a product that currently has a very limited footprint. (According to eMarketer, only 2.9% of Americans now use a VR headset at least once-per-month, a figure that will grow to just 5.2% by 2019.)

Related: Facebook Dives Deeper Into AR

Many analysts still believe that augmented reality -- a more limited, less expensive approach to content enhancement that doesn't require special headsets and other gear -- will make its mark in the mass media well before VR. As an example: During next month's total solar eclipse, the Weather Channel will use AR during its all-day coverage to explain the science of how the eclipse develops.

Perhaps even more pertinent: A Facebook group that has focused on VR for several years this week expanded its name to "Virtual and Augmented Reality."
The smarter way to stay on top of the multichannel video marketplace. Sign up below.
Contributor Gary Arlen is known for his insights into the convergence of media, telecom, content and technology. Gary was founder/editor/publisher of Interactivity Report, TeleServices Report and other influential newsletters; he was the longtime "curmudgeon" columnist for Multichannel News as well as a regular contributor to AdMap, Washington Technology and Telecommunications Reports. He writes regularly about trends and media/marketing for the Consumer Technology Association's i3 magazine plus several blogs. Gary has taught media-focused courses on the adjunct faculties at George Mason University and American University and has guest-lectured at MIT, Harvard, UCLA, University of Southern California and Northwestern University and at countless media, marketing and technology industry events. As President of Arlen Communications LLC, he has provided analyses about the development of applications and services for entertainment, marketing and e-commerce.