Amazon Livens Up Its Streaming Share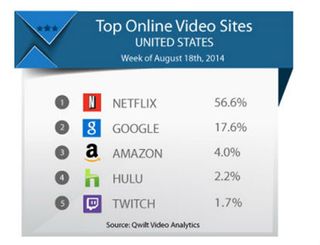 Amazon's $970 million acquisition of Twitch will give it access to a company that has locked up a good chunk of live streaming traffic in the U.S., but its overall OTT video contribution apparently won't be nearly as significant.
Qwilt, the maker of "transparent" edge video caching systems, tabulated data for the week of August 18 and found that Netflix, to no one's surprise, was the top online video site, accounting for 56.5% of traffic, followed by Google/YouTube (17.6%).
Amazon, according to Qwilt, was third, with 4%, followed by Hulu (2.2%) and Twitch (1.7%), so adding Twitch traffic will seemingly solidify Amazon's third-place slot while still leaving it with plenty of ground if it's ever going to catch up to the big dogs of OTT video.
As we noted earlier, Twitch is also closing in on becoming a top ten streaming app in the U.S., accounting for 1.35% of traffic, according to Sandvine's most recent analysis.
But Twitch is the king of live traffic, having locked up 43% of such streaming in the U.S., according to Qwilt data posted in April, labeling Twitch as "The Netflix of Spectator Gaming," and noting that 99% of its visitors come to watch live gaming and 58% spend more than 20 hours per week on the site.
So, with Twitch, it appears that Amazon will be buying into a popular and growing online video audience that will give it a big lead on live streaming share, and bit of a rolling start as it tries to make up ground and mix it up with overall OTT leaders, Netflix and Google.
The smarter way to stay on top of the multichannel video marketplace. Sign up below.