Amazon Boosts Subscription 'Channel' Count Near Century Mark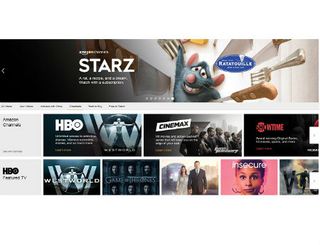 About a year after its debut, Amazon Channels, Amazon Prime's subscription VOD aggregation service, has expanded to nearly 100 'channels.'
That's up from the 30-plus that were on board when the offering debuted in December 2015, and up from the 75 or so partners that were part of Amazon Channels as of September 2016.
RELATED: Amazon's Streaming Partners Program Clicking With Content Makers, Consumers
Amazon Channels lets Prime members add on SVOD services without having to take a traditional pay TV bundle or sign on for a long-term contract. Amazon Channels recently added HBO and Cinemax to the mix.
Amazon didn't put an exact figure on the performance of Amazon Channels, but said Prime members now have "millions" of video subscriptions through the service.
So far, the most watched subscription service is Starz, with Inside Out (via Starz) as the most streamed movie and Outlander (also from Starz) as the service's most streamed TV show.
Showtime's Shameless is Amazon Channels's most streamed comedy, and Wild Kratts from PBS Kids is the most streamed kids show.
The performance of Amazon Channels is "a validation of this platform idea," Michael Paull, vice president, digital video at Amazon said in an interview for an upcoming feature story from Multichannel News that will focus on the surge of SVOD services.
He said the approach provides "one simple integrated experience" that does not require viewers to jump from app to app.
"We've effectively opened it up to allow third party channels and branded SVOD services to be available to those engaged Prime members," he said.
Based on the first week of sign-ups, HBO and Cinemax are poised to "be one of the most successful channels on our service," he added. "The business is working for our customers and the business is working for the networks and the channel owners."
The smarter way to stay on top of the multichannel video marketplace. Sign up below.
Thank you for signing up to Multichannel News. You will receive a verification email shortly.
There was a problem. Please refresh the page and try again.