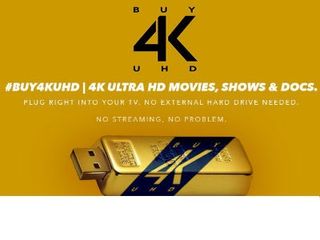 A lot of 4K will be delivered digitally over managed IP connections and over-the-top, but that doesn't mean the need for physical media will completely fade away.
While TV makers such as Sony offer specialized 4K media players that are pre-packed with movies and other content in the new format while Ultra HD Blu-ray products are still out on the horizon, others are starting to use different form factors to sell and distribute 4K content.
Among that group is Mance Media, an independent distributor of movies and TV shows, that has launched BUY4KUHD, a standalone unit that is starting to sell 4K movies, TV shows and documentaries on USB 3.0-powered thumb drives. Early on, Mance Media is selling almost a dozen titles, starting at $11.99.
Mance Media is initially selling those pre-loaded thumb drives globally on its own site, but is in talks with "major retailers," according to company CEO Matthew Mancinelli, who believes that there's room for physical media to coexist with digital and streaming media.
And digital clearly factors, too, as Mance Media also has distribution partnerships with M-GO, Sony, Dish Network and Amazon, and, earlier this week, began to sell several films in 4K via the new BitTorrent Bundle platform.
More details about Mance Media's 4K strategy will be covered in the March 30 issue of Multichannel News.
The smarter way to stay on top of the multichannel video marketplace. Sign up below.
Thank you for signing up to Multichannel News. You will receive a verification email shortly.
There was a problem. Please refresh the page and try again.