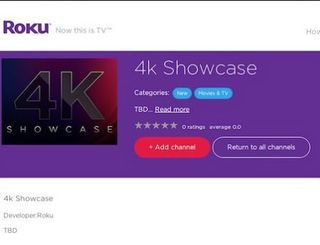 Evidence continues to point to a 4K/UHD upgrade for the Roku platform, but it's still not clear if there's a new Roku 4 model in the making or if the video streamer will be adding that capability to the existing product lineup.
Dave Zatz speculated in this recent post on his ZatzNotFunny blog that a 4K-capable Roku appears to be just days away, pointing to a CinemaNow online promo touting four free HD rentals with any purchase of a "Roku 4" device (the cited offer is good from Oct. 1, 2015 through April 30, 2016, an indication that a new product launch is imminent).
UKRokuChannels, meanwhile, located evidence of a Roku "4K Showcase." Roku has announced a reference design for integrated Roku TVs that it will license to OEMs, but has not announced a streaming player that can deliver 4K video.
Additionally, a batch of new documentation for a handful of new Rokus, Zatz points out, has made its way through the FCC. But instead of a new Roku 4 model, it shows pics and data on models such as the Roku 3.
That's led to a different idea of what's cooking: "I have a NEW theory... there is no Roku 4. But new variants of the 2015 Roku 2 and Roku 3 are going 4k," Zatz tweeted.
As for Roku, they are not commenting on the FCC filings or their product roadmap in general.
But the timing of a 4K-capable Roku platform would be right, as it would come ahead of the holiday buying season and on the heels of Amazon's debut last week of a 4K-capable Fire TV that fetches $99.99, even as Apple opted not to bring 4K to the new Apple TV.
And if Roku does follow through with a 4K variant of some of its existing models, it will be interesting to see how they are priced. The current Roku 3 sells for $99.99 (the same as the 4K Fire TV), while the Roku 2 goes for $69.99.
The smarter way to stay on top of the multichannel video marketplace. Sign up below.
Thank you for signing up to Multichannel News. You will receive a verification email shortly.
There was a problem. Please refresh the page and try again.