Amazon Drops Video Trailers for Several New Shows at TCA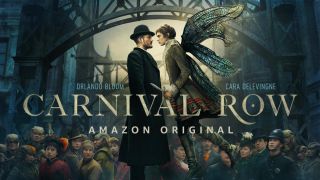 Amazon Studios Saturday released first-look trailers for several of its upcoming series premieres as part of its Television Critics Association press tour session.
Below are the trailers as well as premiere dates (if available) and short descriptions for each show:
Transparent (movie, premiering Sept. 27): The musical-tinged finale of Amazon's long-running series follows the Pfefferman family as they face a life-changing loss and begin a new transition, confronting grief as they come together to celebrate connection, joy, and transformation.
Carnival Row (new series, premiering Aug. 30): The series, which stars Orlando Bloom and Cara Delevingne, is set in a Victorian fantasy world filled with a growing population of mythological immigrant creatures that struggles to coexist with humans — forbidden to live, love, or fly with freedom. A recent string of gruesome murders threatening the uneasy peace of the Row.
Modern Love (new series, premieres Oct. 18):The romantic comedy anthology series explores love in all of its complicated and beautiful forms as each standalone episode brings some of the most beloved stories to life with a stellar cast, including Anne Hathaway, Tina Fey, John Slattery and Brandon Victor Dixon.
Tom Clancy's Jack Ryan (returning series): The second season of the series finds CIA Officer Jack Ryan heading down to South America to investigate a potentially suspicious shipment of illegal arms in the Venezuelan jungle. As Jack's investigation threatens to uncover a far-reaching conspiracy, the President of Venezuela launches a counter-attack that hits home for Jack, leading him and his fellow operatives on a global mission spanning the United States, UK, Russia, and Venezuela to unravel the President's nefarious plot and bring stability to a country on the brink of chaos.
Undone (animated series, Sept. 13): Amazon's new animated series that explores the elastic nature of reality through its central character Alma, a twenty-eight-year-old living in San Antonio, Texas. After getting into a car accident and nearly dying, Alma finds she has a new relationship to time. She develops this new ability in order to find out the truth about her father's death.
The smarter way to stay on top of the multichannel video marketplace. Sign up below.
Thank you for signing up to Multichannel News. You will receive a verification email shortly.
There was a problem. Please refresh the page and try again.