What's Premiering This Week (Feb. 18--Feb. 23)
Prime Video's 'Hunters' makes debut; AMC's 'The Walking Dead' returns for second half of 10th season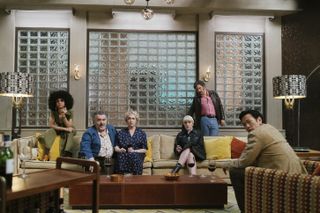 (Image credit: Prime Video )
Below are video trailers and premiere dates for several shows debuting the week of Feb. 3 to Feb. 9 on cable networks and streaming services (for some videos, viewer discretion is advised):
Feb. 18 -- We Are the Dream: The Kids of the Oakland MLK Oratorical Fest (documentary) -- HBO
Feb. 19 -- Year of the Rabbit (comedy) -- IFC
Feb. 20 -- Sacred Lies: The Singing Bones (drama) -- Facebook Watch
Feb. 21 -- Gentefied (drama) -- Netflix
Feb. 21 -- Hunters (drama) -- Prime Video
Feb. 21 -- Star Wars: The Clone Wars (returning series) -- Disney+
Feb. 23 -- Better Call Saul (drama) -- AMC
Feb. 23 -- Ballmastrz: 9009 (animation) -- Adult Swim
Feb. 23 -- The Walking Dead (drama) -- AMC
Feb. 23 -- When Calls The Heart (drama) -- Hallmark
We'd love to stay in touch, sign up for the NextTV team to contact you with great news, content and offers.
Thank you for signing up to Next TV. You will receive a verification email shortly.
There was a problem. Please refresh the page and try again.