Study: 15% of Pay-TV Users Downgraded Service Over the Last Year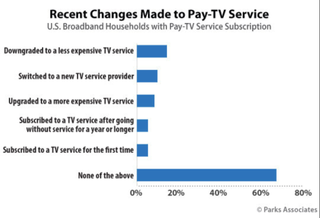 Parks Associates said 15% of pay TV subscribers downgraded to a less expensive bundle from the first quarter of 2017 to Q1 2018.
The research company also said that one third of pay TV subscribers living in U.S. broadband homes changed their services during that span.
"OTT subscriptions are on the rise, reaching 64% of U.S. broadband households, as pay-TV subscriptions decline, so all players are looking for that magic combination of service types, content, and pricing in order to secure subscribers," said Elizabeth Parks, senior VP of Parks Associates, in a statement.
Parks reported that about 10% of U.S. linear video subscribers in broadband homes upgraded their service. About 5% subscribed to a service after going without pay TV for at least a year.
The smarter way to stay on top of the multichannel video marketplace. Sign up below.
Thank you for signing up to Multichannel News. You will receive a verification email shortly.
There was a problem. Please refresh the page and try again.