Sinclair Stock Soars After RSN Deal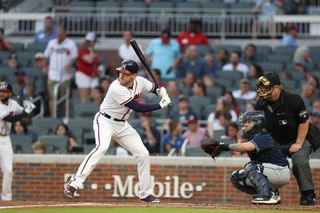 Sinclair Broadcast Group stock was up more than 30% in early trading Monday, the first full day of trading after the station group announced its purchase of 21 regional sports networks from The Walt Disney Co.
Sinclair shares rose as high as $59.39 in early trading -- up 32.1%, or $11.80 per share -- on May 6. The stock closed at $60.48 on Monday, up 34.5%, or $15.53 per share.
Sinclair announced Friday that it had submitted the winning bid for the RSNs, former Fox Sports properties that Disney purchased as part of its larger buy of certain 21st Century Fox programming assets. Disney had agreed to divest of the former Fox RSNs as a condition of federal approval of the larger deal.
In a conference call with analysts to discuss the merger on Monday, Sinclair CEO Chris Ripley said the deal will double Sinclair's total revenue to $6.7 billion and nearly triple its cash flow from $900 million to $2.6 billion.
"We will become the leading local sports and news company in the country," Ripley said on the call. "There is a lot to like about this transaction."
Sinclair stock rose another 10% in early trading on May 7 to $66.57 per share before settling down to $62.04 (up 2.6%) by 11:21 a.m. on Tuesday.
The ride is a big change from just eight months ago, when Sinclair stock plunged after its $3.9 billion merger with Tribune Media was terminated. Sinclair shares had been trading in the $35-$40 range in the months leading up to May 5, 2017 -- when it first announced the deal -- but started to sink as opposition to the merger began to gain steam. In late July and early August, when it started to become clear that the merger would face difficulties in getting federal approval, the stock fell to around $25 per share. Tribune announced it was terminating the deal on Aug. 9, 2018.
The stock stayed in the doldrums for months after the Tribune deal was scrapped -- Tribune found another buyer in Nexstar Media Group, a deal that is pending federal approval -- picking up in January and when it was identified as one of the bidders for the Fox RSNs and in March after it announced a partnership with the Chicago Cubs for the Marquee Sports Network.
For the latest deal, the former Fox RSNs will be placed in a separate entity -- Diamond Sports Holdings -- which will also house minority interests from the teams that the channels carry and Entertainment Studios chief Byron Allen. On the call, Ripley would not reveal how much of an interest Allen or the teams will hold, but said Sinclair would control 90+% of the "total economics" of the sports channels.
Sinclair said the structure of the deal -- placing the RSNs in a separate silo -- was specifically made to allow from additional partners to participate. Ripley said on the call that Sinclair had received inbound interest from several financial and strategic players and that the structure is to make it easier to expand participation in the future.
"I think it will be inevitable that we add future equity partners into the structure," Ripley said. "Because of that it made sense to keep it separate so we could facilitate those arrangements."
Ripley was vague when asked whether any of the networks are due for renewal with distributors in the near term, but said "they are very similar to the existing distribution outlook for our core business on the broadcast side."
BTIG media analyst Rich Greenfield has said that he believes all of the Fox RSNs are up for renewal with major distributors in the next two years, beginning with Dish Network in the summer and Charter in the fall of 2019, followed by AT&T-DirecTV (summer 2020) and Comcast (fall 2020).
Ripley added that equity participation in the RSN silo could be a big part of carriage renewals, adding that while several RSNs already have an equity piece of the networks that carry them, he expects that to increase.
"We expect that [equity participation] to be a core tenet of renewals going forward because we do think that it aligns interest better and variabilizes the expense structure," Ripley said.
The smarter way to stay on top of the multichannel video marketplace. Sign up below.
Thank you for signing up to Multichannel News. You will receive a verification email shortly.
There was a problem. Please refresh the page and try again.