Scripps, Tegna to Buy 19 Nexstar Stations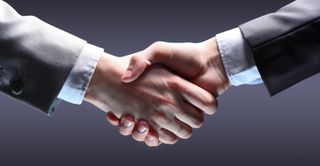 E.W. Scripps and Tegna said they would buy a combined 19 television stations from Nexstar Media Group for a total of $1.32 billion in two separate deals.
Tegna would take the biggest chunk — 11 stations in eight markets including Memphis, Tennessee and Hartford, Connecticut, for $740 million. Scripps agreed to buy eight stations in seven markets for $580 million, including CW affiliate WPIX in New York. Both deals are all cash and are contingent on Nexstar closing its $6.4 billion purchase of Tribune Media.
Scripps said it would pay $505 million for six Nexstar stations and $75 million for WPIX. Methuselah Advisors and Morgan Stanley acted as financial advisors and BakerHostetler acted as legal counsel for Scripps.
The deal would give Scripps 59 stations in 42 markets, reaching about 30% of U.S. TV households.
"This acquisition represents another step in our plan to improve the depth, reach and durability of our broadcast television station portfolio while adding nicely to the company's free cash flow generation," said Scripps CEO Adam Symson in a press release. "These stations allow us to rebalance our portfolio with meaningful assets – at an efficient price ahead of a robust political advertising season."
The stations Scripps will purchase are:
WPIX (CW) in New York City
KASW (CW) in Phoenix (which joins the Scripps ABC affiliate there)
WSFL (CW) in Miami–Fort Lauderdale (adjacent to the Scripps NBC affiliate in West Palm Beach, Florida)
KSTU (Fox) in Salt Lake City
WTKR (CBS) and WGNT (CW) in Norfolk, Virginia
WTVR (CBS) in Richmond, Virginia
WXMI (Fox) in Grand Rapids, Michigan
As part of the deal, Scripps has given Nexstar the option of buying back WPIX, exercisable from March 31, 2020 through the end of 2021.
Tegna said it would purchase 11 Nexstar stations in eight markets , including eight Big 4 network affiliates in a deal valued at $740 million, or about 6.7 times cash flow.
The stations are:
WTIC/WCCT (FOX/CW) in Hartford-New Haven, Connecticut
WPMT (Fox) in Harrisburg-Lancaster-Lebanon-York, Pennsylvania
WATN/WLMT (ABC/CW) in Memphis, Tennessee
WNEP (ABC) in Wilkes Barre-Scranton, Pennsylvania
WOI/KCWI (ABC/CW) in Des Moines-Ames, Iowa
WZDX (FOX) in Huntsville-Decatur-Florence, Alabama
WQAD (ABC) in Davenport, Iowa and Rock Island-Moline, Illinois
KFSM (CBS in Ft. Smith-Fayetteville-Springdale-Rogers, Arkansas
The deal will give Tegna about 60 stations in 49 markets.
"Tegna has a proven track record of acquiring highly attractive assets that create immediate value for shareholders through significant synergies," said Tegna CEO Dave Lougee in a press release. "These stations are an excellent strategic and financial fit and bring additional geographic diversity to our portfolio of leading stations. They add four additional key markets to our strong political footprint as the 2020 presidential election gets underway. We continue to invest in growth and remain well positioned to capitalize on consolidation opportunities that are both strategic and financially prudent."
Nexstar, which is in the process of completing a merger with Tribune Media, had identified about 21 stations it would divest to remain in compliance with federal ownership rules. Tegna's agreement to acquire these eleven television stations is contingent on the closing of the Nexstar-Tribune merger, expected to take place in the late third quarter/early fourth quarter of 2019.
Related: Tribune Shareholders Approve Nexstar Deal
At the Deutsche Bank Media, Internet and Technology conference in Palm Beach Florida earlier this month, Lougee said that mergers and acquisitions would be a "very big part" of Tegna's strategy going forward.
"We have enough scale today to do what we need to do" Lougee said at the March 12 conference. "We absolutely believe in scale over the long term. We are poised to be a big consolidator."
J.P. Morgan and Greenhill & Co. are acting as financial advisor and Nixon Peabody LLP, Jenner & Block LLP and Hughes Hubbard & Reed LLP are acting as legal counsel to Tegna in connection with the proposed transaction.
Many observers had expected the Nexstar stations to go to private equity firms, especially Apollo Global Asset Management, which was said to be a bidder and had taken an aggressive posture in the deal market, agreeing to purchase 14 Cox Media stations in February for about $3 billion. While Apollo did not win the Nexstar stations, it participation likely drove up the price -- the stations were initially expected to fetch about $1 billion.
The smarter way to stay on top of the multichannel video marketplace. Sign up below.
Thank you for signing up to Multichannel News. You will receive a verification email shortly.
There was a problem. Please refresh the page and try again.