Report: James Murdoch Won't Join Disney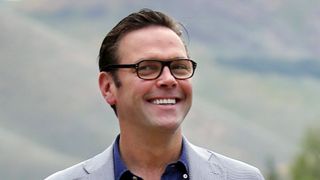 Murdoch family scion and 21 Century Fox CEO James Murdoch will likely not join the Walt Disney Co. in the event their deal is completed, according to a report in the Wall Street Journal, and instead will head his own company, possibly in the financial arena.
The Journal, citing people familiar with the matter, said James Murdoch will most likely start a venture capital fund to invest in start-ups in the digital and international media business if Fox's deal with Disney comes to fruition.
The report ends speculation that James Murdoch was being considered as a possible replacement for Disney chairman and CEO Robert Iger. Iger signed a two-year extension to his employment contract after Disney announced its $66.1 billion agreement to purchase certain Fox assets. In announcing the deal Iger said James Murdoch would assist with the integration of the two companies and after that the two would continue discussions as to whether there was a role for Murdoch in the combined entity.
James Murdoch is considered to be a tech savvy and astute businessman, and many would have considered him the logical choice for an executive role at Disney. But according to the Journal, lately James Murdoch has been telling associates that there would be no role for him at the combined company.
There is no guarantee that the Disney deal will go through. While the transaction has been approved by the Fox and Disney board of directors, it still needs to pass muster from shareholders and federal regulators. And Comcast, which had bid on the Fox assets before but was bested by Disney, is said to be lining up banks to makes its own competing all-cash offer.
If the Disney deal wins out, Fox will concentrate on its broadcast, sports and news assets and be run by James' brother Lachlan Murdoch, who returned to the family business in 2014 after nearly a decade running his own Australian investment company.
And Disney made moves to solve its succession problems in March, reshuffling management and elevating former chief strategy officer Kevin Mayer as chairman of a newly formed direct-to-consumer and international segment, and adding products responsibility to parks chief Robert Chapek's duties.
The smarter way to stay on top of the multichannel video marketplace. Sign up below.