O'Connor Steps Down as Univision CRO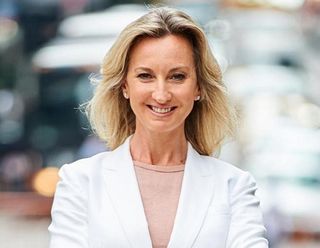 The list of top officers leaving Spanish-language broadcaster Univision continued to swell late Monday, after chief revenue officer Tonia O'Connor said she would step down after more than a decade at the Spanish-language broadcaster.
O'Connor is the fourth top Univision executive to leave the company in recent months. In March, CEO Randy Falco announced he would retire and was replaced by former Media General chief Vincent Sadusky in June. Chief financial officer Francisco Lopez-Balboa also stepped down in March, shortly after Univision said it would abandon plans to go public. Earlier this month chief content officer Issac Lee said he would step down and start his own production company.
O'Connor has been with Univision for more than 10 years, and has played a key role in growing the company from three networks to 17 broadcaster, cable and digital networks. A Multichannel News Wonder Woman in 2009, O'Connor has steadily moved up the ranks during her career at the broadcaster.
Univision has struggled along with other broadcasters and has been running a tight race with Comcast's Telemundo, which outbid the broadcaster for Spanish language rights to the World Cup through 2026. Univision, which has relied heavily to telenovelas to fill out its programming lineup, has been losing some ratings ground to Telemundo's slate of action series, mini-series and reality programming
"For more than a decade, Tonia O'Connor has been a key figure in transforming Univision from a niche media asset into a major player in the U.S. media landscape," Univision's board fo directors said in a statement. "We greatly appreciate her leadership and the important role she played in driving the company's growth, negotiating complex transactions and developing new revenue streams. We thank her and wish her well and continued success in her new endeavors."
O'Connor led UCI's efforts to expand the reach of its portfolio of brands and content availability by creating new consumer products and securing valuable shelf space with both traditional and emerging distributors, and social media platforms. She established UCI's content licensing business and built Univision's distribution revenue stream.
O'Connor also launched the Company's direct-to-consumer live streaming and on demand subscription video service, Univision NOW, as well as the development of the Univision Creator Network. She also led the industry's first experiential upfront with UCI's Culture Unbound earlier this year, demonstrating an innovative approach to brand positioning.
"Univision is a uniquely positioned company, unlike any other brand," O'Connor said in a statement. "I am incredibly proud of helping transform Univision into a media powerhouse – with the most loyal audience and billions in enterprise value. I will always treasure my experience and colleagues from Univision, which I will carry with me as I take on new challenges and continue to make an impact."
The smarter way to stay on top of the multichannel video marketplace. Sign up below.
Thank you for signing up to Multichannel News. You will receive a verification email shortly.
There was a problem. Please refresh the page and try again.