Firm Looks to Boost Social Media Political Ad Take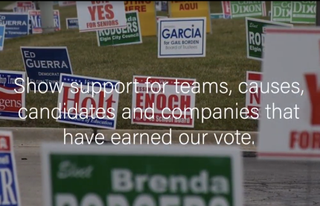 Some veteran social media/ad executives are looking to increase social media's share of political ad bucks, while making a buck themselves.
Investor and tech exec Jamie Tedford heads up Booster, a company whose software will allow political campaigns to crowdfund social media ads targeted to a specific message and "tactic."
The software is tied to Facebook's effort to vet those political ads.
Related: Twitter Bans Political Ads
Campaign and issue ads that have been certified by Facebook will be able to "invite" donors to make small-dollar contributions "boosting" specific posts.
Booster software will process the donations and target them to the posts, with Booster making its money from those political campaigns by getting a small cut of each "boost."
The effort has gotten input from Adrienne Elrod, former director of strategic communications for the Hillary Clinton 2016 presidential campaign and and Minyon Moore ("For Colored Girls Who Considered Politics"), among others.
Mike Garsin, who co-founded digital ad firm Brand Networks with Tedford, will be CTO of Booster, while Aaron Earls, co-founder of New Media Strategies (now owned by Meredith Corp.) will be chief commercial officer.
The smarter way to stay on top of the multichannel video marketplace. Sign up below.
Thank you for signing up to Multichannel News. You will receive a verification email shortly.
There was a problem. Please refresh the page and try again.