Dish Shares Soar on Better Subscriber Metrics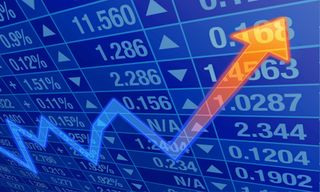 Dish Network shares rose more than 11% Friday (Aug. 3) after the satellite TV service provider reported second-quarter subscriber numbers that surprised many analysts, and offered some more detail on its plans to build out its wireless spectrum.
Dish ended the quarter with a net loss of 151,000 customers, better than the nearly 200,000 it lost last year. On the satellite TV side, Dish shed 192,000 satellite TV customers (compared to a loss of 316,000 in Q2 2017) while Sling TV customer gains came in at 41,000, below the 75,000 gain some analysts expected. Sling TV ended the quarter with 2.3 million customers. Overall churn for the period was down to 1.46% compared to 1.86% in the prior year.
Revenue for the period was $3.5 billion, down 5% from $3.6 billion in Q2 2017. Net income of $439 million compared to $40 million a year ago.
Dish shares rose as high as 11.2% ($3.33 each) to $33.19 per share in early trading Friday. The stock calmed down later in the session, priced at $32.07 each (up 7.4%) at 10:52 a.m. on Aug. 3
In a note to clients, Evercore ISI media analyst Vijay Jayant said the subscriber results were better than expected – he had estimated the satellite TV segment would lose 225,000 customers. But Dish revealed in its 10-Q quarterly report filed with the Securities and Exchange Commission that it has entered into tower master lease agreements for towers and contracts for chipset and radio development and manufacture, as the company works toward meeting a federally mandated deadline to being offering service to 70% of its licensed area by March 2020.
"The results support our view that the DBS business provides a substantial financial runway for Dish to monetize its spectrum investments," Jayant wrote. "We estimate that assuming a 5x multiple on 2018E EBITDA, the market is valuing DISH's spectrum portfolio at approximately $0.53/MHz-POP, well below the $1.26/MHz-POP average value we place on the portfolio."
The smarter way to stay on top of the multichannel video marketplace. Sign up below.
Thank you for signing up to Multichannel News. You will receive a verification email shortly.
There was a problem. Please refresh the page and try again.