Dish Adds Apple Messages to Customer Service Arsenal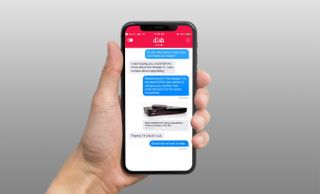 Dish Network said it is enabling customers to interact with live customer reps via Apple Business Chat, part of its broader, ongoing customer service effort dubbed "Tuned Into You."
"TV should be simple, so we've made reaching our live customer service representatives as easy as sending a text," said Dish chief operating officer John Swieringa in a statement. "Adding messaging with Apple Business Chat is a powerful way to connect with us, giving another choice so you can pick what fits with your life."
Dish customers can use Apple Business Chat to contact a live agent to ask questions, make account changes, schedule an appointment, or order pay per view movie or sporting events using their credit card on file. Apple Business Chat does not display customer contact information to an agent, so customers are in complete control of whether they want to share any contact information and can authenticate their account to make changes or purchases.
Related: Dish Unveils New Spokeslistener Spots
Customers can leave a conversation with Dish at any time and pick it back up when convenient, even on another Apple device linked to the user's Apple ID. The conversation never times out and ends when a customer deletes the message thread in the Messages app.
To start an Apple Business Chat, customers can search for Dish on iPhone or iPad, then tap the Messages icon that appears next to the Dish search result. Soon customers will be able to open chat from the contact page of their MyDish app. Devices must be running iOS 11.3 or higher.
The smarter way to stay on top of the multichannel video marketplace. Sign up below.
Thank you for signing up to Multichannel News. You will receive a verification email shortly.
There was a problem. Please refresh the page and try again.