Comcast Launches Xfinity Flex, a $5-a-Month Streaming Platform for Internet-Only Customers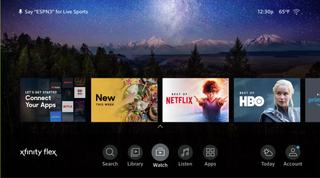 Comcast is launching a new $5-a-month streaming video platform on March 25 targeted to the increasing number of its customers that take internet services without video.
Xfinity Flex will blend user interface access to popular subscription streaming platforms like Netflix, Amazon Prime Video and HBO Go, AVOD services like Tubi and Xumo, movies and TV shows for rent and sale through Comcast's transactional store, along with a limited number of live programming channels, including Cheddar and ESPN3. Music will also be available through Pandora and iHeartRadio.
The service will ship with a HD- and 4K-capable wireless set-top, along with Comcast's X1 Voice Remote. In fact, Flex will have home automation and security features available through X1, letting customers control things like lights and thermostats through the user interface.
Flex customers will be able to upgrade to a full live TV package through Comcast. The platform will not support live programming through third-part virtual MVPD operators like Sling TV, DirecTV Now or Hulu+ Live TV.
"We think this is going to be great value. For $5 per month, on top of internet service, it's effectively for price of renting a movie," said Matt Strauss, executive VP of Xfinity Services for Comcast Cable.
Calling Flex "the right product and the right time" for a particular segment of the Comcast consumer base, Strauss said there will be no national promotion for Flex.
"It will drive value to our internet business, make it stickier, and reduce churn," he said.
Flex is only the latest attempt by Comcast to deliver a low-cost streaming video service over managed network to customers who don't take a full video package, with Comcast launching a more vMVPD-like service, Xfinity Stream, several years ago.
"The TV is the dashboard to the digital home," Strauss said. "Flex is a bit of a sandbox for us, where we can develop new features and experiences, geared to a very targeted audience."
Strauss said Comcast is in talks to syndicate Flex, much as it has X1 and its home automation business to Cox Communications and the major Canadian cable operators.
"But we have no ambition to take Flex beyond our footprint," he added.
The smarter way to stay on top of the multichannel video marketplace. Sign up below.
Thank you for signing up to Multichannel News. You will receive a verification email shortly.
There was a problem. Please refresh the page and try again.