Comcast Increases Offer for Sky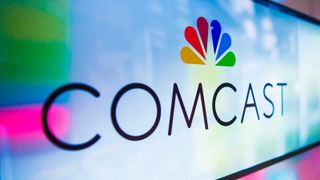 Mere hours after 21st Century Fox announced its new $32.5 billion offer for Sky, Comcast upped the ante, raising its bid for the U.K. satellite giant to $34 billion.
Comcast said it's all-cash offer has been recommended by Sky's independent committee of directors. The £14.75 per share bid comes after Fox had raised its offer for Sky to £14 per share.
"Today's announcement further underscores Comcast's belief and its commitment to owning Sky," Comcast said in a statement.
The next question will be whether Fox wants to keep the bidding war going, or if it will decide to let this one go. Fox currently owns 39% of Sky.
The Comcast offer adds a new wrinkle into an increasingly complicated battle for Fox assets. In addition to its Sky bid, Comcast was expected to raise its offer for other Fox programming assets pledged to the Walt Disney Co. Disney, which had earlier reached a deal to buy the Fox properties for about $52 billion in equity, was trumped by a $65 billion counter bid by Comcast on June 13.
A week later, Disney fired back with a $71.3 billion cash and stock offer and received federal approval on the deal later that month. Comcast has been expected to counter the last Disney bid, but some have speculated it could drop that pursuit in favor of Sky. If not, it will have committed well north of $100 billion for both sets of assets.
In a statement Comcast said it had committed financing available to satisfy the full cash Sky bid and has received regulatory approvals in the EU, Austria, Germany, Italy, and Jersey. Comcast expects to complete the acquisition before the end of October 2018.
The smarter way to stay on top of the multichannel video marketplace. Sign up below.
Thank you for signing up to Multichannel News. You will receive a verification email shortly.
There was a problem. Please refresh the page and try again.