Comcast Drives 1-Gig Into More Regions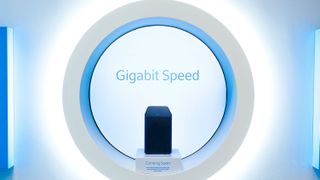 Comcast has launched 1 Gbps (downstream) broadband service for residential and business customers using DOCSIS 3.1 in several counties in central and western Pennsylvania.
In the western part of the state, launches are complete in Armstrong County, Clarion County, Indiana County, Jefferson County, and Venango County. In central Pennsylvania, 1-Gig is now offered in Berks County, Dauphin County, Northumberland County, and Schuylkill County.
In those areas, Comcast is selling the 1 Gig residential service (paired with upstream speeds that max out at 35 Mbps) under the "everyday" price of $104.95 without a contract, and a promotional price of $89.99 per month when subs sign up for a 12-month agreement.
The deployments get Comcast a step closer to reaching a goal of completing D3.1 upgrades across the vast majority of its HFC footprint by year-end 2018. At the end of Q1, about 90% of Comcast's footprint was upgraded for 1-Gig. 
Comcast ended Q1 with about 24.21 million residential high-speed internet subs, but didn't break out how many were taking 1-Gig speeds (some 75% of them are on downstream speed tiers of 100 Mbps or more).
For 1-Gig subs who lease devices from the MSO, Comcast is enabling D3.1 in the home using its xFi Advanced Gateway, a product formerly known as the XB6 that is also equipped with an 8x8 WiFi antenna array using 802.11ac version 2 and a set of IoT radios (Bluetooth LE, Zigbee and Thread). Comcast customers also have the option of buying D3.1-certified modems from suppliers such as Arris, Netgear, and Zoom/Motorola.
RELATED: Comcast Goes Wide With DOCSIS 3.1 Gigabit Gateway
Comcast said its WiFi network footprint, via a mix of deployments in metro outdoor areas, business locations in inside customer gateways, is comprised of more than 19 million hotspots. 
The smarter way to stay on top of the multichannel video marketplace. Sign up below.
Thank you for signing up to Multichannel News. You will receive a verification email shortly.
There was a problem. Please refresh the page and try again.