CNN: No Decision on Suing White House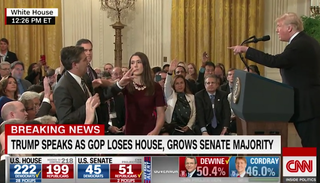 CNN has made no decision about whether to sue the White House over its revocation of Jim Acosta's press pass, a CNN spokesperson said Sunday.

That came after iconic former ABC White House correspondent Sam Donaldson said he had been asked to provide an affidavit for a potential suit, according to The Hill, which cited Donaldson's appearance on CNN's Reliable Sources.

Related: Acosta Still Banned From White House Grounds

The spokesperson said CNN had "reached out to the White House and gotten no response." It has been working behind the scenes to try and get the pass reinstated. The White House justified the move by saying Acosta had manhandled an intern when refusing to give up the mic during a press conference -- where Acosta pressed the President on immigration and Russian election meddling issues.

In a lengthy press conference the day after the midterm elections, after being pressed repeatedly by Acosta on the President's characterization of the migrant caravan as an "invasion" and whether there would be indictments coming down on the Russia investigation, Trump first told Acosta to put down the mic, then called the White House reporter a "rude, terrible person" and said CNN "should be ashamed of itself having you work for them." He also said CNN's treatment of press secretary Sarah Sanders was horrible.

Acosta said later on CNN that when the President goes low he (Acosta) continues to do his job, but that he was surprised that what he thought would be a post-election victory lap came off as a pity party, with the President sounding depressed and defeated over the results. Acosta said the President had appeared to spiral out of control over his "big loss."
The smarter way to stay on top of the multichannel video marketplace. Sign up below.
Thank you for signing up to Multichannel News. You will receive a verification email shortly.
There was a problem. Please refresh the page and try again.