CBS, Viacom Shares Plunge in Overall Market Sell-Off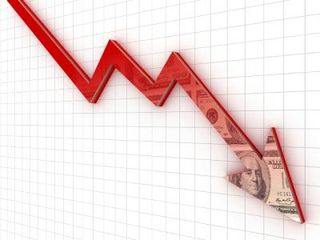 A day after announcing their long-awaited merger, CBS and Viacom shares plunged more than 8% on Aug. 14 as the Dow Jones Industrial Average sank by 800 points, fueled by fears of a global economic crunch.
CBS stock closed at $44.65 each (down $4.05 each, or 8.3%) and Viacom shares were in the same boat, dropping 8.5% ($2.49 per share) to close at $26.72 per share Wednesday.
Overall, the Dow closed at 25,479.42, down 800 points (3%) -- its biggest drop for the year -- after weak German and Chinese economic data sent signals of a possible global slowdown.
Other media stocks showed some weakness. Broadcasters Nexstar Media Group and Sinclair Broadcasting were down 7% and 8.6%, respectively, while cable programmers like Discovery (down 7.1%), The Walt Disney Co. (down 3%), and AMC Networks (down 2.8%), also got nicked.
On the distribution side, Comcast fell 2.5%, Charter Communications was down 1.1%, Cable One dipped 1.13% and Altice USA dipped 1%. On the tech side, Netflix shares fell 4.2%, Amazon was down 3.4%, and Apple and Facebook dipped 3% and 4.6%, respectively.
A day earlier, CBS and Viacom announced their long-awaited merger, which they said would create a broadcast and pay TV powerhouse with more than $28 billion in combined revenue.
While executives at both companies tried hard to tout the benefits of the merger -- like accelerated and expanded direct-to-consumer offerings, and larger retrans and affiliate fees -- some analysts weren't convinced of the advantages.
In a research note Tuesday, Sanford Bernstein media analyst Todd Juenger wrote in a note to clients that the deal has a clear benefit to Viacom -- the addition of CBS strengthens its status in carriage negotiations and gives it a solid direct-to-consumer platform in CBS All Access -- but not much for CBS.
"The fact that Viacom is in serious trouble is NAI's [National Amusements, the largest shareholder of both companies] problem," Juenger wrote. "It is not CBS's problem. The CBS board seems on path to make it CBS's problem."
Even other analysts who praised the deal cautioned that it could be a long, tough road.
In a research note Wednesday, MoffettNathanson senior analyst Michael Nathanson wrote that both sides will have to "work extra hard to prove the financial merits of the combination," adding that the biggest benefit of the deal could be in recapturing the lost economics of the "foolish decision," to separate the companies more than a decade ago.
The smarter way to stay on top of the multichannel video marketplace. Sign up below.