Analyst: Moonves Exit, Viacom Combination Could Be in CBS Future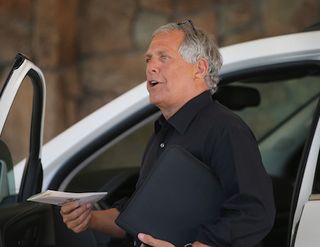 In the wake of CBS' board of directors' ongoing investigation into the growing sexual harassment scandal surrounding its chairman and CEO Les Moonves, Pivotal Research Group analyst Brian Wieser said it is likely the long-time media chief will exit, and that a once-shelved merger with corporate sister Viacom is back on the table.
CBS' board said at a previously scheduled meeting Monday that it is in the process of selecting outside counsel to investigate the allegations against Moonves, but took no further action on the matter. Some observers had expected CBS would at least put Moonves on hiatus as the investigation continued.
The New Yorker article uncovered what it called a culture of harassment and abuse at the company over a period of decades. Six women came forward to accuse Moonves of forcibly kissing and touching them over a period of years. The piece also unearthed allegations that former CBS News chairman and current 60 Minutes executive producer Jeff Fager inappropriately touched some female employees and allowed harassment to continue on his watch, which he denied in the piece. About 30 former and current employees have alleged various forms of harassment and assault at the hands of other male employees in positions of power, according to the piece.
In a note to clients, Wieser wrote that the New Yorker piece, past rumors and reporting and the apparent inability of the CBS board to "publicly investigate either issue in a more timely manner – suggest serious problems at the top of the company.
"The company will not be viewed by many key industry participants as taking workplace safety seriously without significant action, which we think the Board will realize has commercial consequences, if not legal and moral ones," Wieser continued. "Consequently, it seems likely to us that CEO Les Moonves will be eventually removed from his role."
CBS stock, which has been hammered in the days after the New York article surfaced July 27 – the stock lost about 11% of its value between July 27 and July 30 – was up 2% (97 cents) to $52.25 each in early trading Tuesday.
Wieser wasn't alone. According to reports, Cowen & Co. analyst Doug Creutz downgraded CBS to "market perform" from "outperform," adding that Moonves should step down and immediately be replaced by current chief operating officer Joseph Ianniello. Ianniello was focus of a separate battle between Viacom and CBS vice chair Shari Redstone and Moonves. Moonves had handpicked the COO to be his successor, but Redstone wanted Viacom CEO Bob Bakish. Whether the connection to Moonves could taint Ianniello – against whom no accusations have been made – with the board, is a nagging question.
While the absence of Moonves, who has been the face of CBS and the catalyst for its growth over the past several years, will create a power vacuum and will at least have a short-term impact on the broadcaster, it is a needed step, Wieser noted. The bigger impact could be that without Moonves at the helm, the previously shelved combination with Viacom is now likely to occur.
Moonves had been a big opponent of the merger, which had been championed by Redstone. After a public battle, Redstone pulled the merger off the table, as the entity that controls her shares in the companies – National Amusements – was pulled into a legal battle with CBS.
"Without Moonves at the helm, we think CBS will be less able to persuade investors that it is better off on its own," Wieser wrote.
The smarter way to stay on top of the multichannel video marketplace. Sign up below.