Amazon Moves Live Video Workflow to the Cloud with MediaConnect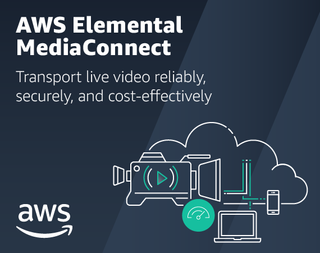 Amazon Web Services has announced the rollout of a new cloud-based service for the contribution, distribution and secure sharing of live video.
Just emerging from a private beta, AWS Elemental MediaConnect is already touting a client list that includes The Pac 12 Network, Discovery, ITV and Arqiva,
The "console"-based workflow service allows broadcasters of live content to ingest their video into the cloud, securely transmitting it to distribution parters, or replicating it to multiple destinations.

"Basically, it's a robust, flexible secure, transport service for sharing video into the cloud, around the cloud and out of the cloud," said Aslam Khader, chief product officer for AWS Elemental, speaking to MCN. "It's a console service, with fully managed capabilities. It's auto scaling and self healing, and you pay as you go. Customers only pay when they turn on the service, and they stop paying when they turn it off."
Content creators are increasingly turning to cloud-based service providers for video workflow management, given the efficiency and cost saving relative to building and managing expensive production workflow infrastructures.
Among the service's users, AWS said UK communications infrastructure company Arqiva has been using MediaConnect to power its recently launched virtualized OTT and on-demand media management services.
Discovery, meanwhile, has also transitioned most of its workflows to AWS.
"The cloud helps us reduce physical infrastructure spending and we are excited to use the capabilities of AWS Elemental MediaConnect to reliably bring broadcast quality content to the AWS Cloud. It opens the door more fully to leverage cloud-native distribution to partners and affiliates as we take our content around the globe on all platforms," said Brinton Miller, exec VP of technology ttrategy for Discovery, Inc.
The smarter way to stay on top of the multichannel video marketplace. Sign up below.
Thank you for signing up to Multichannel News. You will receive a verification email shortly.
There was a problem. Please refresh the page and try again.