Altice One OS Gets First Major Upgrade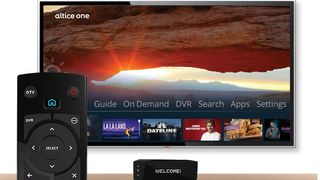 Alice USA has announced the first operating system upgrade to its year-old Altice One platform.
Among its added functionality, Altice One 2.0 will enable users to watch cloud DVR content on the go using the Altice One mobile app. It will integrate YouTube Kids alongside other streaming services—notably YouTube and Netflix—already embedded into the platform.
Related: Altice USA Unveils 'Altice One'
The upgrade will expand the availability of 4K content, including Premier League soccer, which will now be available on channel 200.
Remote control voice search will be enabled for the YouTube app. And the show restart feature will be expanded to 20 additional channels, including A&E, History Channel, Lifetime, Viceland, Fox News, Fox Sports 1, FX and National Geographic. Show restart lets users bounce back to the beginning of any enabled program.
Altice USA said during its third quarter earnings call earlier this month that the initial deployment of Altice One is complete, including expansion across the Suddenlink footprint. Altice said it's now available across 80% of its overall footprint.
The company said about 200,000 of its customers are using the Altice One platform currently.
"Altice One has transformed the way our customers connect to the content they love by simplifying their entertainment experience and providing expansive WiFi coverage to power their homes," said Hakim Boubazine, co-president and chief operating officer, Altice USA, in a statement. "OS 2.0 gives Altice One families new features to enjoy such as enhanced mobility with on-the-go Cloud DVR, more streaming apps, enhanced voice search, and more 4K content, and is just the latest update as we continue to evolve the Altice One experience for our customers."
The smarter way to stay on top of the multichannel video marketplace. Sign up below.
Thank you for signing up to Multichannel News. You will receive a verification email shortly.
There was a problem. Please refresh the page and try again.