Advanced Ad: Monetizing Premium TV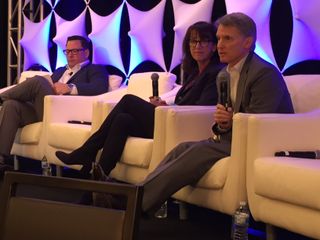 Top ad-sales executives in the advanced advertising realm at CBS and at Disney said that though their companies have taken different paths toward extending their reach to consumers, they share the aim of finding the best ways to pay for the premium content consumers demand.
"What's not going to change is the appetite for premium content," Laura Nathanson, executive VP of revenue and operations at Disney Advertising Sales, said during a Thursday morning session at Advanced Advertising. What will continue to change is how consumers find and watch that content, and how media providers either get consumers to pay for it directly (such as via the ESPN+ app) or indirectly via advertising. She noted that Disney had undergone corporate reorganizations, including a major one this past spring, to be in position to respond to direct-to-consumer opportunities.
Getting ads to be more directly targeted to consumers was a focus during the session for Dave Morris, EVP of advanced advertising and client partnerships at CBS. Speaking to panel moderator Shane Peros of Google, Morris said that when CBS opted not to invest in Hulu that charted a path toward targeting consumers directly with apps including CBS All Access, CBSN, CBS Sports HQ and the new DTC extension of Entertainment Tonight.
Morris said CBS has reams of data on users of CBS web sites and apps but little to no information about 48 million people who watch CBS over-the-air programming daily. He said CBS is not in the ad-tech business so it's looking for partners to make that kind of targeted advertising possible.
"We need partners to help us do a better job to marry reach to relevance and move the ball forward," Morris said, name checking not only Google as a prospective ally but also AT&T's Xandr unit, Comcast's FreeWheel, programmatic-ad vendor Clypd and the OpenAP advanced-ads consortium (backed by NBCUniversal, Viacom, Fox and Turner).
Saying Google, Facebook and Amazon can serve up relevant ads to all, Morris said, "Once we can move over and marry reach to relevance we will compete with the behemoths in digital, full stop."
Nathanson noted that Disney did move toward direct-to-consumer by investing in BAMTech, which led to ESPN+, but said Disney is still in early stages of "figuring out we how we can be one storefront to our advertisers" with "one ad tech stack" to deal with advertisers and agencies.
Advanced Advertising and Next TV Summit, also taking place today (Nov. 1), are part of the sixth annual NYC Television Week. (Pictured, from left: Shane Peros, Laura Nathanson and Dave Morris.)
This story was updated to correct Laura Nathanson's title and that she spoke about using "one ad tech stack" not "one ad tech staff."
Kent has been a journalist, writer and editor at Multichannel News since 1994 and with Broadcasting+Cable since 2010. He is a good point of contact for anything editorial at the publications and for Nexttv.com. Before joining Multichannel News he had been a newspaper reporter with publications including The Washington Times, The Poughkeepsie (N.Y.) Journal and North County News.
The smarter way to stay on top of the multichannel video marketplace. Sign up below.
Thank you for signing up to Multichannel News. You will receive a verification email shortly.
There was a problem. Please refresh the page and try again.