Yahoo (No Exclamation Point)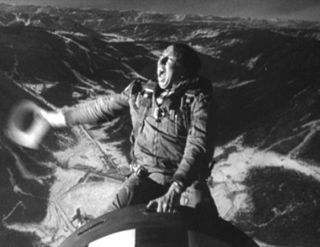 I am old enough to remember when Yahoo! stood for something (Yet Another Hierarchically Organized Oracle) and not just the final word of Major Kong in the last scene in Dr. Strangelove (or was that "Wahoo?"). Nevertheless, the latest moves of Yahoo! the Internet company – holding off on the planned spin-off of its stake in Chinese e-commerce giant Alibaba and essentially spinning off the rest of its business – doesn't invoke the sense of enthusiasm that once permeated the online pioneer.
There was a day when Yahoo! [the exclamation point was needed because it was the only way they could trademark the name; Yahoo was already taken] was at the top of the Internet heap, heading a long line of Web portals with names that have been forgotten for the most part – Lycos, Excite, Web Crawler, Ask Jeeves, etc. Yahoo! was different, a little cocky, but that attitude was backed up by strong technology and the sense that the potential for the Internet was limitless.
But over the last few years, the purpose of that exclamation point has faded as the missteps have far outweighed the hits. In the TV space, where Yahoo! came late to the original content party but with an open wallet, the disappointments have been particularly strong.
In October it scrapped its most high-profile scripted series – former NBC cult comedy Community – and canceled basketball comedy Sin City Saints and sci-fi spoof Other Space, taking a $42 million write-down in the third quarter to boot.
On its third-quarter conference call, Yahoo! chief financial officer Kenneth Goldman said Yahoo! came to the conclusion that it couldn't make money on original content. He left the door open for future shows, but wasn't that encouraging.
"We're not saying we're not going to do these at all in the future, but what we are saying is, in three cases at least, it didn't work the way we had hoped it to work and we decided to move on," Goldman said on the call.
Other ventures, like its exclusive streaming venture with the National Football League, seemed promising at first, but less so after closer scrutiny. Yahoo! said it attracted 15.2 million unique viewers for an Oct. 25 game between the Buffalo Bills and Jacksonville Jaguars in London. But later there was some doubt as to how long those viewers watched, which affected whether the online giant made any money back from its reported $15-to-$20 million investment.
More recently, Yahoo! had planned to avoid a potential $10 billion tax hit to its $32 billion stake in Alibaba by spinning off the interest in a separate company called Aabaco. Those plans were scrapped after the IRS declined to sign-off on its tax-free status. That forced Yahoo! into a corner and resulted in the latest scenario.
Yahoo CEO Marissa Mayer has pledged to tighten Yahoo!'s focus and "prioritize investments to drive profitability and long-term growth," what some have said could be code for more layoffs. But truthfully, there already has been a massive talent exodus at the company over the past few years.
The spin, which some say could take a year to complete, gives Mayer more time to pretty up the assets for sale. It won't be easy. Companies like AT&T, Verizon Communications, Google, Microsoft and News Corp. have been singled out as potential suitors, but none of them will likely pay a high price for the assets. With a market capitalization of about $34 billion, separating out the Alibaba stake and its Yahoo! Japan unit (a joint venture with Japanese wireless company Softbank valued at about $5 billion) leaves a negative valuation for the rest of the company. By some estimates, Yahoo!'s core business has a private value between $2 billion and $8 billion, but is still a far cry from the company's heyday during the Internet bubble, when it was valued north of $100 billion, or even in 2008, when the company had a $56 billion valuation.
The sad part is that Yahoo!'s core business has some strong components – Yahoo! Finance, Yahoo! Sports and Yahoo! Mail – and has about 1 billion global users. Its mail service has about 81 million users in the U.S. alone. Surely that is worth more than a couple of billion dollars.
In a research note before the spin became official, Pivotal Research Group analyst Brian Wieser wrote that Yahoo! has a big enough customer base and a strong sales force that could give a new owner time to develop new products while the core business continues to pump out revenue.
"The big question is whether anyone would actually show up with a meaningful bid," Wieser wrote. "We can understand why a buyer looking to attach their existing assets to a large media property might look at Yahoo! only reluctantly vs. alternative strategies."
Therein lies the rub. If some deep-pocketed company or investor sees the value in that kind of reach, maybe there will be a reason for some enthusiasm at Yahoo! after all.
Weekly digest of streaming and OTT industry news
Thank you for signing up to Multichannel News. You will receive a verification email shortly.
There was a problem. Please refresh the page and try again.