Why Tidy Up If No One's Coming Over?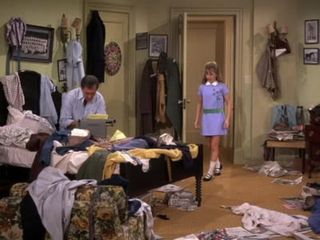 Every time I ask my tween daughter to straighten up her room – and I mean every time – I am greeted with a puzzled look and the following question: "Why, is someone coming over?"
While that may say more about an 11-year-old's idea of hygiene than I care to make public, that was precisely the question that came to mind when I first heard that Dish Network was consolidating some of the hardware and software assets of its sister EchoStar Communications. While Dish said in statements that the moves would give it end-to-end control of its over-the-top service, Sling TV, the timing appears odd (just as the wireless incentive auction moves through its late rounds) and it just smacks of getting the house ready for company.
Dish has been long thought to be a target of Verizon Communications, the wireless powerhouse (114 million customers) that appears to be in search of video distribution assets. Dish certainly has them – it had about 13.6 million satellite TV subscribers in the third quarter – as well as a swath of wireless spectrum that would fit in nicely with the phone company's own wireless network.
A lot of people had thought that Verizon would eventually buy Dish – much like its rival phone company AT&T bought DirecTV in 2015 (opens in new tab) – but regulatory and timing issues aways seemed to get in the way. Now with a President that appears to be ready to wield a teeny, tiny, itty-bitty regulatory hand when it comes to mega deals, that combination seems like it would be much easier to do.
Does transferring EchoStar's satellite, set-top and fiber backhaul operations to Dish, and off-loading the lightly-subscribed-to dishNet satellite business to EchoStar clear the decks for a potential buyer? Maybe. But it wouldn't be too difficult to buy the whole thing and just sell off the chaff later.
Cleaning up the house is never a bad thing. It does at least remove a few steps from any deal. For example, consolidating 100% of Sling TV into Dish – about 10% was held by EchoStar – saves any potential suitor from having to do that later.
Dish stock, which fell last week when the rumor of the day was that Verizon was eyeing Charter Communications – and since disputed by many – was up 3.3% ($1.97 each) Wednesday, closing at $61.14 per share, after going as high as $61.92 per share earlier in the day (up 4.6%). EchoStar shares were up even more, climbing as high as $55.67 per share (up 9.3%) before closing at $55.06 each (up $4.13 each, or 8.1%). So, at least some investors are thinking that something may be in the works.
They are not alone.
"We believe Dish is likely one of the companies that could feel the greatest degree of urgency in trying to combine with a wireless network owner, post the conclusion of the auction," Barclays media analyst Kannan Venkateshwar wrote in a note to clients Wednesday. "With the asset swap today, Dish appears to be concentrating its wireless assets into one entity along with technology assets that can potentially help with video offerings like DirecTV Now. In case Dish does contemplate a transaction with a wireless operator, this mix of assets could further help the overall strategic positioning of a potential combination."
According to reports, Wells Fargo media analyst Marci Ryvicker was quoted as having a "gut feeling" that Dish chairman and CEO Charlie could be up to something. Citigroup's Jason Bazinet was the contrarian, saying the move was good for both companies but believing it pointed more to M&A opportunities for EchoStar than Dish.
MoffettNathanson principal and senior analyst Craig Moffett published a report on Verizon on Wednesday after a lengthy talk with the phone company's new CFO, Matt Ellis, about several topics and believes that Verizon isn't under any pressure to do a deal. While Ellis wouldn't comment directly on any deals – the federal wireless auction rules prohibit conversations between bidders -- Moffett said the company makes a pretty strong case for waiting until more is known before committing to one business path.
"Despite investors' obvious impatience, and a view among many investors that AT&T's 'boldness' is preferable to Verizon's reticence, Ellis seems to clearly appreciate that choosing one path necessarily closes others, and the risk of the path not taken is extremely high given the current level of technological and regulatory uncertainty," Moffett wrote.
Pivotal Research Group CEO and senior media & communications analyst Jeff Wlodarczak noted that when Ergen first split Dish and EchoStar in 2008, everyone thought that was the precursor for sale of the satellite giant that never came.
Wlodarczak added that the deal doesn't involve a huge amount of money and makes sense since EchoStar didn't have much luck selling set-tops to companies other than Dish – the reason for the split originally.
"In the end, it appears that this was a move toward simplification for both players," Wlodarczak said in an e-mail.
How it plays out is left to wide speculation. Dish may be cleaning house to attract a suitor, but that doesn't mean an appropriate one will come. And like I tell my daughter, sometimes it's just nice to have a clean room.
The smarter way to stay on top of the multichannel video marketplace. Sign up below.
Thank you for signing up to Multichannel News. You will receive a verification email shortly.
There was a problem. Please refresh the page and try again.