White House Tech Experts Focus on Digital Infrastructure Security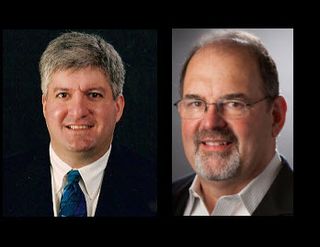 WASHINGTON, D.C. -- Two top White House technology experts, speaking at a seminar here on "The Future of U.S. Digital Infrastructure," emphasized the primacy of security and privacy protections as critical to future build-outs and upgrades of digital infrastructure.
They and their fellow panelists also offered various perspectives on the evolving competitive landscape, including the role that Google Fiber and emerging wireless broadband technology will play.
Federal chief information officer Tony Scott (pictured on right) cited the "relentless pressure" for "digital development." But he suggested that industry is short-sighted just to "put stuff in and leave it until it breaks." He singled out the push for Internet of Things services, warning that today's system is "not designed for the kinds of cybersecurity issues [we'll] face."
Thomas Kalil, deputy director of policy for the White House Office of Science and Technology Policy (pictured on left), urged federal agencies and departments to rethink their propensity to cling to legacy systems.
The systems in place at agencies and departments aren't going to last forever, and government needs to adopt a cycle of constant refresh, Scott said during the Dec. 9 event, hosted by Brocade and the Information Technology and Industry Council at the National Press Club here.
Federal IT Priorities: Top Executives Look to 2013 and Beyond
In a recent survey on Federal IT Reform (click here to download the summary), senior government IT executives laid out their vision for the coming year, detailing challenges and identifying priorities.
Commenting on the report, Scott said: "We have to have a mindset of working this out in a way -- economically, policywise -- that keeps riding the curve and practices that through all of the ecosystems that contribute to this. It's no different than paving roads. You don't just put a road in and then wait until it breaks apart. You repave them every once in a while. And every once in a while you have to tear it up and put a whole new road down. We [must] get in that cycle."
Scott continued, "You see a lot of markets where you have one or two dominant players," and noted that wireline and wireless competition "put the fear of God" into companies to invest in their networks.
Kalil said the United States will not be complacent and is looking at ways to improve in terms of technology development and investment.
Scott said he's excited about the opportunities that the Internet of Things could bring to government — if not a little hesitant. He likened the flood of network-connected devices and sensors to "free love in the '60s." IoT, he said, has been booming with little consideration in Washington as to how policy must be fashioned around that.
"There were no checks on interoperability,'' said Scott, who was previously CIO at VMWare in Palo Alto. "It was, 'I can interact with you, therefore I shall, no matter what, and under all circumstances.' That's not necessarily a good thing in all cases, so I think we've got to have some models and some broadly enforceable rule sets that can apply ... that will actually, if done right, encourage the kind of growth that I think we all see."
Contributor Gary Arlen is known for his insights into the convergence of media, telecom, content and technology. Gary was founder/editor/publisher of Interactivity Report, TeleServices Report and other influential newsletters; he was the longtime "curmudgeon" columnist for Multichannel News as well as a regular contributor to AdMap, Washington Technology and Telecommunications Reports. He writes regularly about trends and media/marketing for the Consumer Technology Association's i3 magazine plus several blogs. Gary has taught media-focused courses on the adjunct faculties at George Mason University and American University and has guest-lectured at MIT, Harvard, UCLA, University of Southern California and Northwestern University and at countless media, marketing and technology industry events. As President of Arlen Communications LLC, he has provided analyses about the development of applications and services for entertainment, marketing and e-commerce.
The smarter way to stay on top of the multichannel video marketplace. Sign up below.
Thank you for signing up to Multichannel News. You will receive a verification email shortly.
There was a problem. Please refresh the page and try again.