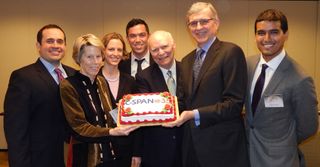 FCC Chairman Tom Wheeler took a break from the regulatory parry and thrust with communications stakeholders to be a "cakeholder."
He visited the offices of C-SPAN on Capitol Hill Wednesday (March 19) along with members of his staff to mark C-SPAN's 35th birthday as the home of House hearings.
C-SPAN has been giving FCC chairs tours of its offices for several years now, but according to C-SPAN VP and general counsel Bruce Collins, the chairman did not have a block of time sufficent for the tour, so they made it a lunch with senior staffers and impromptu birthday celebration instead, complete with a cake that Wheeler held for photos and then tasted.
Collins said that Wheeler brought along a number of staffers, and would have brought more except for some last minute bow-outs. "We were pleased that the chairman thought enough of the invitation that he wanted the whole staff to come," Collins said.

The smarter way to stay on top of the multichannel video marketplace. Sign up below.
Thank you for signing up to Multichannel News. You will receive a verification email shortly.
There was a problem. Please refresh the page and try again.