VUDU Making a Streaming Stick, Too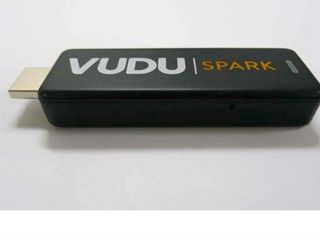 So, make room for yet another HDMI-connected, WiFi-fueled video streaming stick – the VUDU Spark.
Though it's not clear yet if this will be a direct competitor to streaming sticks from Google, Amazon and Roku by supporting a full apps ecosystem, the new device from the Walmart-owned VUDU was spotted by GigaOm in the FCC database, showing several images of the product as well as a user manual.
We've asked VUDU for details, such as pricing, expected availability and if it will support apps other than VUDU's, but the FCC materials show it working only with the VUDU electronic sell-through platform, which lets users rent and buy movies and TV shows and stream them to an array of connected devices, including the PlayStation 3/4, the Channel Master DVR+, Xbox 360 and Xbox One, Roku, Chromecast, select Blu-ray players and connected TVs, Web browsers and iOS and Android-based devices, among others.
GigaOm notes that the device is paired with a remote control powered by Zigbee RF, versus WiFi Direct, meaning "you shouldn't expect Miracast or any similar type of mirroring functionality either."
If it's indeed a device solely tethered to VUDU, at least early on, it makes me wonder if VUDU will simply just give this gadget away along with perks like a free movie to entice more people to jump on board as VUDU continues to face off against a competitive EST market that includes iTunes, Amazon, Google, Sony, Target Ticket, Comcast and Verizon Communications, to name just a few.
Update: VUDU confirmed that work is underway on Spark, but that's about all they're willing to share at this time: "We're always looking at new ways for our customers to experience the movies and TV shows in their VUDU library. We're developing a streaming stick and will share more information in the coming months. Stay tuned," a spokesperson said, in a statement.
The smarter way to stay on top of the multichannel video marketplace. Sign up below.