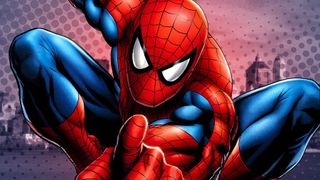 The Internet has been in overdrive over the latest choice to play Marvel Comics superhero Spider-Man for the Big Screen. And though Tom Holland has some tough acts to follow – Tobey Maguire and Andrew Garfield have portrayed the role in the last five movies – the character has also has an impressive run on television – including a limited run as a live-action series (The Amazing Spider-Man in 1978) -- to its more successful string of animated series on both cable and broadcast. So, based on my many (too many) years as a fan, and help from IMDB.com, here is a chronoligical list of TV Spidermen.
Spiderman: 1967-70
Paul Soles: Peter Parker/Spiderman:
A veteran voice actor – he wasHermey, the elf that wanted to be a dentist in the 1964 holiday classic Rudolf the Red-Nosed Reindeer as well as Bruce Banner/The Hulk in the 1966 animated Hulk series; Rick Jones in Captain America (1966); and Harold "Happy" Hogan in Iron Man (1966). Soles also provided the voice of Spiderman in two episodes of the short-lived Spider-Woman TV series in 1979 (Spider-Woman was voiced by none-other than Joan Van Ark, who later played Valene Ewing on Dallas and Knots Landing). Soles also made the transition to live action superhero movies, playing Stanley in the 2008 The Incredible Hulk (with Ed Norton as Bruce Banner/ The Hulk). According to IMDB, the 85-year old Soles' last credit was for additional voices in Cartoon Network animated series The Day My Butt Went Psychoin 2013.
The Amazing Spiderman: 1978
Nicholas Hammond: Peter Parker/ Spiderman
The only live action series in the bunch, The Amazing Spiderman only lasted a few weeks on CBS in 1978 – it ran from April to May of that year. In 1979, the series returned as a handful of specials on the Tiffany Network. Hammond made his big first splash opposite Julie Andrews and Christopher Plummer in The Sound of Music (1965) where he played the oldest male Von Trapp child, Friedrich. Although he didn't get to use his singing and dancing chops in Spiderman, Hammond has had steady work in TV series over the years, and most recently played Henry Nevinson in the Australian mini-series Gallipoli, which aired on the Nine Network in 2015.
Spider-Man: 1994-98
Christopher David Barnes: Peter Parker/Spider-Man
Barnes, probably most famous for his portrayal of Greg Brady in The Brady Bunch Movie (1995) and A Very Brady Sequel (1996), played Peter Parker/Spider-Man in the animated Fox Kids' series from 1994 to 1998. Since then he has voiced the wall-crawler in several video games – Spider-Man Shattered Dimensions (2010); Spider-Man: Edge of Time (2011); Marvel Heroes (2011; as Symbiote Spiderman/Superior Spiderman); Spider-Man Unlimited (2014, as Electro/Vulture). In the current Ultimate Spider-Man TV series, Barnes voices Max Dillon/Electro/Spider Knight.
Spider-Man: The New Animated Series: 2003
Neil Patrick Harris: Peter Parker/Spider-Man
Harris, the former Doogie Howser, M.D. who revitalized his career playing himself in comedy Harold & Kumar Go To White Castle (2004) and later played raconteur Barney Stinson in How I Met Your Mother for nine seasons, began his road back into the spotlight as the voice of the web-spinner in 2003. Harris has gone on to do several more movies, host the Oscars and the Tony Awards and has become one of the most well-liked stars in the business. Though short-lived, the Spidey series had an impressive cast – in addition to Harris, Ian Ziering (lately of the Sharknado movies) played best friend Harry Osbourne; singer/actress Lisa Loeb played love interest Mary Jane Watson; Keith Carradine played J. Jonah Jameson and Ed Asner played Officer Barr.
Ultimate Spider-Man: 2012-present
Drake Bell: Peter Parker/Spiderman
Bell is a veteran cable actor – he was the co-star of long-running Nickelodeon kids' show Drake & Josh and was a regular performer on Nick's The Amanda Show (1999-2001) starring former child star Amanda Bynes. Bell has made a name for himself in the Marvel animated Universe – he's the voice of Spidey in several Disney series featuring the web-crawler – Marvel Avengers Assemble; Hulk and the Agents of S.M.A.S.H. and LEGO Marvel Super Heroes: Maximum Overload. The Ultimate Spiderman series also features some other well-known names: Boston Public star Chi McBride (as Nick Fury), Academy Award winner J.K. Simmons (as J. Jonah Jameson) and SpongeBob Squarepants voice Tom Kenny (as Dr. Octopus).
The smarter way to stay on top of the multichannel video marketplace. Sign up below.
Thank you for signing up to Multichannel News. You will receive a verification email shortly.
There was a problem. Please refresh the page and try again.