Three Questions for Alfre Woodard of Netflix's 'Luke Cage'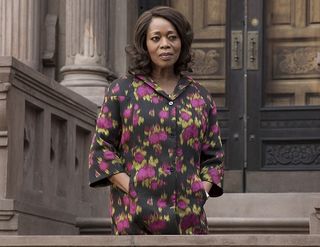 Emmy Award-winning actress Alfre Woodard stars in the upcoming Netflix original series Marvel's Luke Cage, premiering on the streaming service this Friday (Sept. 30).
Woodard, who plays New York City politician Mariah Stokes in the superhero-themed drama series, has won four primetime Emmy Awards over a more than 30-year television career for her roles in Hill Street Blues, L.A. Law, The Practice and HBO's original movie Miss Evers' Boys.
I recently spoke to Woodard, who will also appear in Netflix's upcoming series A Series of Unfortunate Events alongside Neil Patrick Harris, about her role in Luke Cage as well as her thoughts on the increased opportunities that cable and video streaming services are providing actors in today's evolving television landscape.
Related:New Trailer for Netflix's 'Marvel's Luke Cage'
R. Thomas Umstead: Talk to me about your role in Luke Cage.
Alfre Woodard: My character has heard about super-enhanced people in New York, and the thing is as a person in power I know that if I can't control them I'll have to shut them down. I want to meet Luke Cage because I can use him towards my end – I want to make a difference in the city and I want to change things in the city. So if I can't fight Luke Cage, I better well figure out how to get him to help me.
RTU: How did you come about starring in a superhero-themed series on Netflix?
AW: [Luke Cage creator/executive producer Cheo Hodari Coker] asked me. When he would talk about the Marvel Universe and Harlem, I saw his love and respect for the depth of history and culture, and also for the Marvel universe. I always like to work with people who are passionate and light up about a project.
RTU: From your perspective as a veteran actress, is this the best time to be in the television business?
AW: I would say so because certainly I think cinema has abandoned the American actor. When filmmakers are real storytellers, then you need parts of speech like the actor, the sound person and all of those disciplines to tell a story. But if your story is just visuals and special effects, you need a human in there occasionally but not necessarily and actor to do that. So a lot of [actors] are coming to television. If it were just the [broadcast] networks, you would try to tell these big world stories using only four or five notes on the scale. Cable and streaming gives the opportunity to be able to tell whatever stories you want to tell. So I think that it has increased the need for actors, and also its given the actors an opportunity to be the virtuosos that they are.
The smarter way to stay on top of the multichannel video marketplace. Sign up below.
Thank you for signing up to Multichannel News. You will receive a verification email shortly.
There was a problem. Please refresh the page and try again.