Telecom Act Update Looms Larger, Hill Staffers Speculate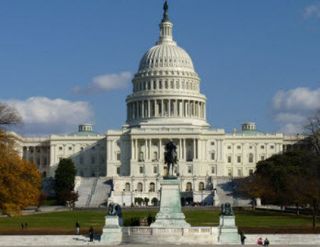 An omnibus update of the Telecommuncations Act, rather than piecemeal revisions, may become a high priority in the 115th Congress, according to top staff members of the Senate and House Commerce committees involved with the issue.
At the Media Institute's monthly luncheon on Tuesday (Dec. 6), Republican and Democratic staffers agreed that substantial preparatory work has been done during the past three years, and many members would like to see a "comprehensive" update emerge, although none would predict a timetable or the eventual shape of the legislation.
"It's not so much what industry [wants], but what's good for consumers," said David Goldman, Democratic counsel for the Communications and Technology Subcommittee of the House Committee on Energy and Commerce.
Kelsey Guyselman, Republican counsel to the same committee, pointed out that incoming E&C chairman Rep. Greg Walden (R-Ore.) and his predecessor Rep. Fred Upton (R-Mich.) are "very optimistic" because of their ongoing reviews of issues. She said Walden has put it "at the top of his priority list."
"We've spent time on individual pieces," Guyselman said, but cautioned that a decision to proceed won't happen "until Members get a better sense of what has to be done."
In a wide-ranging discussion entitled "What's Ahead for Communications in the Next Congress?" moderated by Media Institute chairman and long-time communications attorney Richard Wiley, the bipartisan staff panel responded with varying perspectives on working with the "new" FCC next year.
Wiley asked if Congress would initiate a rare Congressional Review Act (CRA) to examine the FCC's controversial privacy proposal. Guyselman said that the House committee is "not to the point of making that decision."
The panel also grappled with Wiley's questions about ownership rules, with an inconclusive remark summarizing views about cross-ownership restrictions.
"The media landscape has changed so much" that Congress should continue to "look at modernizing" laws, Guyselman said.
As for broadband expansion, the panelists agreed that congressional support is likely, possibly to be included in the promised "infrastructure" plan that President-elect Trump is expected to introduce.
David Quinalty, Republican policy director for communications and telecom on the Senate Committee on Commerce, Science and Transportation, pointed out that the committee's chairman, Sen. John Thune (R-S.D.), also sits on the Senate Finance Committee, which will be involved in such infrastructure decisions. Quinalty contended that Thune's perspective would be useful in determining infrastructure support plans.
John Branscome, his Democratic counterpart on the committee staff, agreed that broadband will be part of the infrastructure discussion, particularly for rural areas.
Quinalty also dangled the possibility that FCC commissioner Jessica Rosenworcel, a Democrat whose term will end later this month, could be approved for another term; but he acknowledged that time is a critical factor as the clock ticks down on the 114th Congress.
Related: Groups Want FCC's Rosenworcel Out, Then Back In
On a more realistic topic Quinalty indicated that the Senate committee will continue its examination of net neutrality.
"We're having internal conversations about procedures," Quinalty said, adding that "just by having a White House that is less likely to veto" a congressional action doesn't mean that the committee will push any particular policy.
An audience question about the Internet of Things, drones, self-driving cars, sensors and other fast-developing technologies brought an answer from Quinalty that the Senate committee may be better equipped to handle any necessary legislation since its name and mandate includes "Commerce, Science and Technology" whereas its House counterpart is focused on Energy and Commerce.
He described these "disruptive technologies" as "blurring the lines" of Congress's traditional designated powers, which he expects will persist, even as more communications facilities come to market.
The panel ducked questions about antitrust actions, such as the looming AT&T-Time Warner merger plan. And a query about the current spectrum auction triggered a response that deferred to the FCC's established process.
The smarter way to stay on top of the multichannel video marketplace. Sign up below.
Contributor Gary Arlen is known for his insights into the convergence of media, telecom, content and technology. Gary was founder/editor/publisher of Interactivity Report, TeleServices Report and other influential newsletters; he was the longtime "curmudgeon" columnist for Multichannel News as well as a regular contributor to AdMap, Washington Technology and Telecommunications Reports. He writes regularly about trends and media/marketing for the Consumer Technology Association's i3 magazine plus several blogs. Gary has taught media-focused courses on the adjunct faculties at George Mason University and American University and has guest-lectured at MIT, Harvard, UCLA, University of Southern California and Northwestern University and at countless media, marketing and technology industry events. As President of Arlen Communications LLC, he has provided analyses about the development of applications and services for entertainment, marketing and e-commerce.