Subscription Streaming Jumps 24%: DEG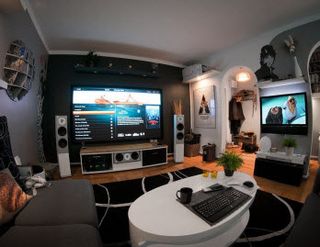 Total home entertainment spending surpassed $12.73 billion during the first nine months of 2015, representing a scant 0.37% increase from the same period last year.
The category was overwhelmingly driven by paid subscription streaming services, which generated $3.65 billion in sales from January through September, up 24.2% from 2014, according to the Digital Entertainment Group, a Hollywood marketing and promotional organization originally formed to support DVD, Blu-ray, UltraViolet and similar physical media formats.
In its interim report for 2015, DEG said DVD and Blu-ray purchases have declined by 14% year-over-year, while electronic sell-through grew by 18% during the first nine months of the year. The DEG report marks a virtual death notice for conventional video rental, with every category (brick-and-mortar store rentals, subscriptions, even kiosk rentals) seeing declines. For the record, video-store rentals registered just $138 million during the third quarter of this year.
DEG noted that theatrical box office receipts dropped by nearly 13% during the summer quarter compared with year-earlier numbers. Overall, during the first nine months of 2015, box office ticket sales were down nearly 6%, DEG said.
Although DEG did not analyze the impact of falling theatrical box office sales, such numbers are a harbinger of the movies in the pipeline for the months ahead. Not incidentally, that also means new opportunities for original video programming and non-theatrical shows.
DEG's core membership consists of studios' home-video divisions, along with technology suppliers. In recent years, Comcast, DirecTV, Home Box Office, Google and Intel have joined DEG's leadership as the group recognizes viewers' migration away from DEG's original shrink-wrapped focus.
In its analysis of the spending trends, DEG cited analyst Colin Dixon of nScreen Media, who predicts that in 2016, subscription video-on-demand spending will exceed rental spending for the first time. Dixon also contends that the tilt to SVOD has probably already occurred since DEG does not include Amazon Prime subscribers in its totals.
Separately, in its third-quarter analysis, DEG cited the growing adoption of 4K Ultra High-Definition TV, which it tied to the continuing appeal of Blu-ray playback devices: 80 million units are now in place in the U.S.
DEG also noted that UltraViolet continues to grow worldwide, with nearly 25 million UV household accounts and more than 50 million movies and TV shows stored in UV libraries.
Contributor Gary Arlen is known for his insights into the convergence of media, telecom, content and technology. Gary was founder/editor/publisher of Interactivity Report, TeleServices Report and other influential newsletters; he was the longtime "curmudgeon" columnist for Multichannel News as well as a regular contributor to AdMap, Washington Technology and Telecommunications Reports. He writes regularly about trends and media/marketing for the Consumer Technology Association's i3 magazine plus several blogs. Gary has taught media-focused courses on the adjunct faculties at George Mason University and American University and has guest-lectured at MIT, Harvard, UCLA, University of Southern California and Northwestern University and at countless media, marketing and technology industry events. As President of Arlen Communications LLC, he has provided analyses about the development of applications and services for entertainment, marketing and e-commerce.
The smarter way to stay on top of the multichannel video marketplace. Sign up below.
Thank you for signing up to Multichannel News. You will receive a verification email shortly.
There was a problem. Please refresh the page and try again.