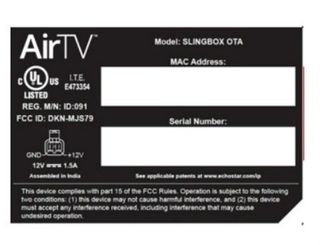 In an apparent move to make its video place shifting platform more attractive to cord-cutters, EchoStar looks to be developing a version of the Slingbox that would capture free over-the-air TV signals and pass them along to users who connect to the device via mobile apps and Web browsers.
The Donohue Report located evidence of a model in the works called the AirTV Slingbox OTA. EchoStar, the set-top and technology corporate sibling of Dish Network, hasn't announced plans to introduce an OTA-focused product and whether a new model might also be outfitted with a few extra bells and whistles, such as DVR storage.
Update: Sling Media is not commenting on unnannounced products. Also, blogger Dave Zatz came across the AirTV trademark in July.
However, a device more tightly tailored for cord-cutters could emerge as Sling Media continues to try to expand its user base. This summer, Sling Media took another stab at the consumer mainstream with the launch of the Slingbox M2, a version that sells for $199.99, but does not require buyers to purchase the requisite mobile apps. However, the M2 does expand the Sling Media's use of advertising in its video place-shifting devices.
Still, Sling Media and EchoStar might be travelling well-travelled ground amid the evolving pay TV landscape. TiVo has the Roamio OTA DVR and is believed to be working on an OTA-tailored of its new Bolt platform that would not include a CableCARD slot (the first Bolt out of the gate supports both OTA and the CableCARD). Channel Master, meanwhile, sells a line of subscription-free "DVR+" products that are designed to work with OTA antennas.
On the MVPD front, Comcast is testing Stream, a $15 per month no-contract service for broadband subs that will feature the major broadcasters and HBO, and be paired with access to a Cloud DVR. Cablevision Systems introduced a batch of cord-cutter packages in April.
The smarter way to stay on top of the multichannel video marketplace. Sign up below.
Thank you for signing up to Multichannel News. You will receive a verification email shortly.
There was a problem. Please refresh the page and try again.