Sir Charles: Lots of Opinions, No Time to Tweet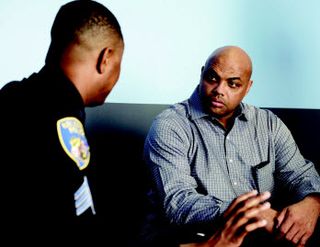 NBA on TNT analyst and former basketball star Charles Barkley has never been shy about voicing his opinions on a variety of issues. Yet the Naismith Memorial Basketball Hall of Famer said he has no interest in expressing himself on social media.

Barkley told a media gathering on May 4 at The Paley Center for Media in New York about his TNT documentary series (premiering May 11), American Race (pictured), that he has no plans to tweet any musings or Instagram any photos anytime soon.

"I've never gone to social media because I think it gives people … the opportunity to voice their opinion on everything and everybody, so it gives people opportunity to be racist, sexist, homophobic," he said. "Those are the negative points to social media."

As for the four-episode show — which debuts tonight (May 11) — Barkley told me he's not worried about critics who question why a likeable, former NBA star is taking on as serious an issue as racism in a series.

"I don't worry about critics who say, 'Why is a basketball star doing a serious show?'" he said. "Those are the same fools who criticized [NBA hall of famer] Michael Jordan for not taking a stand. I'm just going to try to do good, and my critics can kiss my ass."

Watch Barkley discuss 'American Race':


The smarter way to stay on top of the multichannel video marketplace. Sign up below.