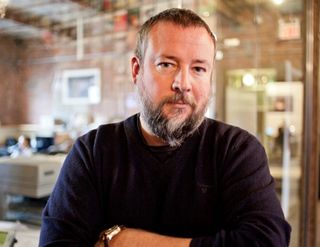 New York – Vice Media CEO Shane Smith endured the endless barbs of friends and colleagues as the recipient of the Center for Communication's Frank Stanton Award for Excellence in Communications Wednesday, but the new media wonder boy got the last and perhaps the best word in as the luncheon fundraising roast for the non-profit journalism education foundation came to a close.
Smith has been in the news a lot lately – after being courted by several media outlets he decided to do a deal with A+E Networks that will essentially hand over the H2 network to Vice. Smith's brand of gonzo journalism has had an outlet on HBO for about three years, and the A+E relationship should only increase his profile.
Smith endured the typical and not-so-surprisingly profane barbs of executives – former Viacom CEO and current Vice Media board member Tom Freston and HBO chairman Richard Plepler – colleagues and comedians at the roast. Among his colleagues – lawyer, restauranteur, comedian and writer Eddie Huang and comedian Clare O'Kane, each managed to squeeze out a few laughs, mainly among the younger set. Most of Huang's comments aren't suitable for a family web site, but he did score a few points showing some e-mail exchanges with Smith, if not for anything but showing the audience Smith's current e-mail address. O'Kane, who said she was Vice's latest diversity hire, got a few laughs at the expense of the stodgy cable company – "To all the cable executives out there: You're blowing it and I hate you," she said.
Saturday Night Live and Portlandia star Fred Armisen came as his IFC show Documentary Now! (and Vice parody) character Jeremiah. Former MTV Jackass Johnny Knoxville came sporting his trademark wild hair and made a few comments about Smith's weight – "Shane is the only Canadian [disgraced Toronto Mayor] Rob Ford can call a slob." There were numerous jabs at an infamous $300,000 bill Smith and his buddies ran up at a Las Vegas restaurant, but for the most part, despite a few profanities, the insults were patently less offensive than your typical Comedy Central roast.
Then it was Smith's turn.
Smith ran a short video getting back at some of his roasters for the afternoon – on Clare O'Kane: "Who?" On Johnny Knoxville: "Ah, Johnny Nowhere." On Rich Plepler: "He called me up the other day and said, 'I want you to do an expose on Netflix.'"
"Everybody likes to talk about disruption, until you actually disrupt and then they hate you," he said in a slight nod to the roast. He noted that Freston, also a recipient of the award, said he was fired from Viacom shortly after he got it, so the honor must be a way for Fox to get rid of him and Vice Media (21st Century Fox co-CEO James Murdoch is on the Center's board of directors.)
But then Smith got a little more serious.
Smith lauded the Center for its nurturing of young journalists, something that he said could ultimately help outlets like Vice but also serve to better society.
"Media is probably the greatest single industry you can pick to go into; it has so much power and so much responsibility with that power," Smith said. "Bringing young people in to change up what we built and what you guys have built up in the past is the most exciting thing we can do."
The smarter way to stay on top of the multichannel video marketplace. Sign up below.
Thank you for signing up to Multichannel News. You will receive a verification email shortly.
There was a problem. Please refresh the page and try again.