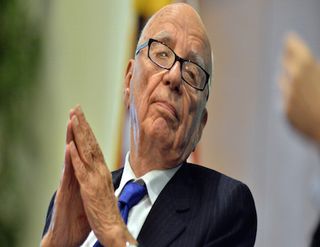 There was a lot of ink shed in the past couple of days over the talk that Rupert Murdoch, chairman and CEO of 21st Century Fox, was getting ready to pass the baton to his sons James and Lachlan. According to people familiar with the matter, James would become CEO and Lachlan would become co-executive chairman, sort of a brotherly tag team to run one of the largest and most influential media companies in the realm.
Both James and Lachlan have earned their chops – James served a stint at its Star TV Asian operations and headed up the U.K. satellite holding BritishSkyBroadcasting, while Lachlan was immersed in the business for years before splitting for Australia for nine years to run his own investment company. While James took a few hits to the chin during the U.K. phone hacking scandal surrounding News of the World, he appeared to navigate what could have been a career-ender pretty deftly.
While there is little doubt that the two can run the company – especially with Rupert sticking around as executive chairman to give the final word – what may be the biggest blow is the departure of Chase Carey.
Carey, besides owning the most awesome moustache in media, has proved to be a deft negotiator on both sides of the table as COO of Fox and in his past life as CEO of DirecTV. While he reportedly will stick around at least through 2016 to assist in the transition in an advisory role, it will be interesting to see how Fox does in its first round of affiliate fee negotiations without him. The programming/distribution relationship has always been a contentious one, and Fox has been by no means a wallflower in any deals, recent or past. But with distributors seeking greater scale to combat rising programming costs and over-the-top services creating offerings that don't always include the full suite of a programmer's lineup, the need for experienced negotiators seems more important than ever. For Fox's sake, the hope is that its new leadership will be up to the task.
The smarter way to stay on top of the multichannel video marketplace. Sign up below.
Thank you for signing up to Multichannel News. You will receive a verification email shortly.
There was a problem. Please refresh the page and try again.