Reliance on Social Media for News Rises as Cable TV Wanes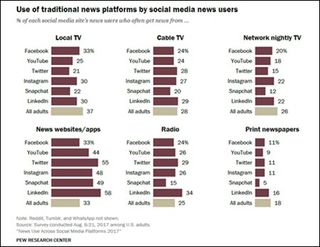 The Pew Research Center's latest analysis of how Americans get news confirms the well-known obvious: Viewership of cable TV news networks is generally down, and use of social media for news is way up. In fact, for the first time, Pew's survey found that more than half (55%) of Americans age 50 or older are getting their news via social media sites, up 10% from a year ago.

About two-thirds (67%) of Americans get at least some of their news via social media, according to Pew's survey, conducted in August. Of those, 45% get news from Facebook, 18% from YouTube and 11% from Twitter, according to Pew's data.

In comparison, about 28% of adults said they watch a cable news channel "often," down from 31% in early 2016 when the presidential primary races were getting underway. The number of respondents to Pew's American Trends polls who said they "never" watch cable news has been relatively constant through recent years: 21% in 2013, 18% in 2016 and 22% this year. Similarly, about 27% or 28% said they watch cable news "sometimes," roughly comparable to the number of viewers who watch local TV newscasts occasionally.

Related > TV News Titans: The 10 Names to Know

The study also cross-tabulated how people who get their news from social media also look at "traditional news platforms." Among all social media site users, cable TV generally ranks equal to local TV and radio, and slightly ahead of broadcast network nightly newscasts (see chart). LinkedIn and Twitter users are the most likely to watch cable television news.

Americans in the 18-to-49 demo rely more on social media for news than adults as a whole (78% vs. 67%), consistent with last year.

Pew examined news access by Facebook, Twitter, YouTube, Reddit, Snapchat, Tumblr, Instagram, LinkedIn and WhatsApp users. The study is loaded with demographic details, such as analyzing social media use by gender, race and education level.

It found that Facebook and Instagram audiences tend to skew female, while LinkedIn and YouTube users skew male; Caucasians are less likely to consume news via social media than other groups; and reliance on social media for news increased last year among Americans with less than a bachelor's degree, but declined slightly among those with at least a college degree.

Doubling Up
Significantly, 26% of adults get news from two or more social media sites, up from 18% last year and 15% in 2013. Pew identified "interesting differences in where the overlaps occur." For example, it found that 40% of Snapchat users go to multiple sites, compared with 8% of LinkedIn customers.

"Facebook, with such a large news user base, overlaps with just about every other social media site," Pew said. Users of "about half ... (at least 48%) of each of the other sites studied also get news on Facebook."

However, beyond the raw data and the implications for the "fake news" political rhetoric, the blunt reality is that cable news and other "traditional news platforms" are facing strong competition in their target demographics. Again, that's not a surprise. But Pew's validating data may augur reconsiderations about how and where to develop news strategies as social media -- for good or ill -- play an increasingly important role in the public discourse.

The 17-page "News Use Across Social Media Platforms 2017" report by Elisa Shearer and Jeffrey Gottfried, published this month, is available as a free download.
The smarter way to stay on top of the multichannel video marketplace. Sign up below.
Contributor Gary Arlen is known for his insights into the convergence of media, telecom, content and technology. Gary was founder/editor/publisher of Interactivity Report, TeleServices Report and other influential newsletters; he was the longtime "curmudgeon" columnist for Multichannel News as well as a regular contributor to AdMap, Washington Technology and Telecommunications Reports. He writes regularly about trends and media/marketing for the Consumer Technology Association's i3 magazine plus several blogs. Gary has taught media-focused courses on the adjunct faculties at George Mason University and American University and has guest-lectured at MIT, Harvard, UCLA, University of Southern California and Northwestern University and at countless media, marketing and technology industry events. As President of Arlen Communications LLC, he has provided analyses about the development of applications and services for entertainment, marketing and e-commerce.